In lieu of the news that Daniel Craig will be putting the James Bond suit one more time, we've decided to take a look back at the top James Bond outfits. Grooms take note! For wedding inspiration James Bond is the ultimate in luxury and class. From morning suit to black tie Bond nails it every single time.
Bond…James Bond.
Daniel Craig – Spectre
This classic tuxedo featured in the latest Bond in the franchise, is a nod to Sean Connery's white tux.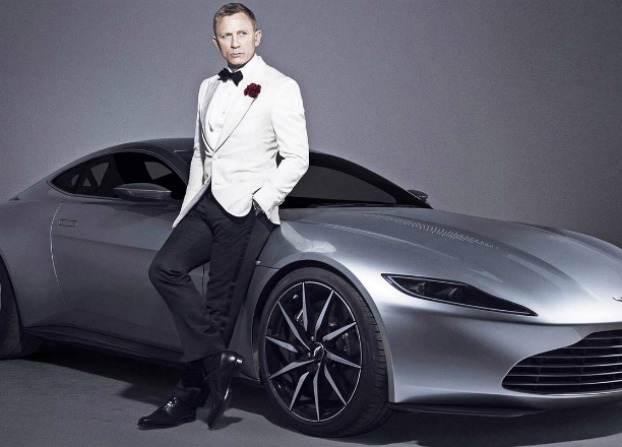 Image via: Maxim
Sean Connery – Goldfinger
A signature Sean Connery look, the three-piece suit is the epitome of relaxed formal and would make a stunning groom suit.
Images via: James Bond Lifestyle
Pierce Brosnan – Tomorrow Never Dies
You can't go wrong with a beautiful cut black tux with matching bow tie – martini glass not included.
Images via: Express
Roger Moore – Live and Let Die
Roger Moore's double breasted navy suit is all class with a subtle hint of glamour.
Image via: James Bond Lifestyle
Roger Moore – The Man with the Golden Gun
Another great display of a white tux, with an exaggerated satin bow tie is true inspiration.
Image via: Esquire
Daniel Craig – Skyfall
Totally on trend this gorgeous navy tux, looks just as nice with and without the tie.
Skyfall offered another great James Bond suit. This grey suit means business.
Images via: imdb
Feeling inspired? Here's a few suits that'll make you feel like a total 007 (sans his signature Austin Martin *wink)
Wil Valor – Classic Black Tuxedo with self-tied bow tie.
Alex Goodman – Velvet Tuxedo and Navy Textured Tuxedo
MJ Bale – Saunders Navy DB Satin Jacket
Tarocash – Ramsey Stretch 2 Button Suit
Calibre – Kensington Tuxedo Jacket
Ermenegildo Zegna – Grey Houndstooth Suit
and for hire check out
Peppers – Ivory Dinner Jacket