Weddings can the colour of your choosing, no longer must we stick to the traditional all white look!
The most challenging questions a Bride will ask herself is what tone would look good for her reception, and the best appealing colour for her Bridesmaids gowns. That's where we come in with some Wedding colour inspiration!
Wedded Wonderland has the right trends that will definitely meet your hearts desire. Have a look at our fifteen fabulous colour combinations for your Wedding.
Image via Wed Mania
1. Camel and Cranberry
Who knew the combination of food groups could actually assist with Wedding planning?
This colour palette is perfect for Autumn Weddings where the leaves are dry and love is in the air.
Image via Event Dazzle
2. Navy and Coral
Mix up the rainbow!
Navy, an elegant colour scheme works perfectly with the warm tone of Coral.
Image via Floridian Social
3. Green and Ivory
A luscious affair.
Get your Green on with this natural theme for your Wedding.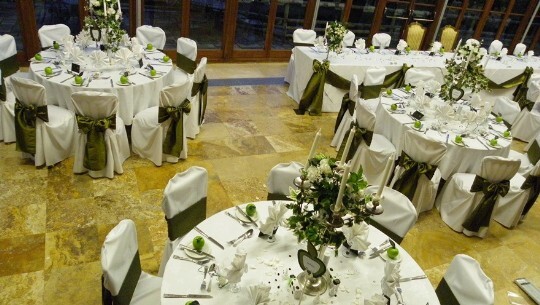 Image via Nos Castle
4. Blue and White
Keep your Wedding chilled!
Blue and White complement one another with a icy cool touch.
Image via Kibuck
5. Purple and Lavender
Nothing is as vibrant yet dark like the Purple tones.
But why does combining them look so chic?!
Image via Table Decorating Ideas
6. Copper and Gold
A enriched Wedding.
Every Bride always needs a little touch of Gold.
Image via Petals Fine Flower
7. Black and White
A common choice for a luxurious Wedding.
Black and White never fails and comes in a variety of shapes.
Image via Wedding Venues
8. Yellow and Peach
For a Summer Wedding.
We definitely love anything peachy! Add a little Yellow and you have floral mania.
Image via Exquisite Events
9. Teal and Aqua
Such cool tones!
These up and coming colours are modern and can be combined with White for extra sophistication.
Image via Donnaclick
10. Red and Champagne
Say cheers to happiness!
Like a stamp to a letter, Red and Champagne stick together.
Image via Sonal Jshah Blogspot
11. Fuchsia and Beige
Adding a pop of colour never hurts.
Fuchsia is a lively tone while Beige gives a subtle touch. Don't ask us, try it for yourself!

Image via Aisle Perfect 
12. Pink and Gold
Working together never looked this good!
Gold is the ultra modern tone of Weddings today. With the addition of Pink, there is definitely some chemistry going on.
Image via Elizabeth Anne Designs
13. Mint and Latte
A Mint can save your life in more ways than one.
Don't take our word for it, ask the Latte!
Image via Sydney Museums