Now that the wedding is over, it's time to start building your life together!
Setting up your home after you're married can be fun and it's a great way to spend quality time together (well.. for some). Start by looking at your kitchen tea gifts and work from that.
Everyone says home is the place, so here are some tips to keep in mind when setting up!
1. The Lounge Room
This is the room where everyone gets together!
When it comes to the 'identity' of your home, the lounge room is surely the first impression. Couples will usually find it hard to combine their interests under one roof, especially when colour is involved.
Our suggestion is to choose neutral tones that can simply work with vibrant colour schemes. White walls are versatile and can help you decorate without the room looking too busy. Sofas, entertainment units and coffee tables are key when setting up your lounge room. This three-seat sofa from IKEA looks fab and can fit nicely in any corner of the room.
Image via Ikea.com.au
2. The Dining Room
The dining room is essential for home cooked meals and gossiping about the neighbours!
As a couple, it's your choice whether your home should convey the same colour scheme throughout. But, every room can have it's own identity.
Think of fantastic ways to spruce up the dining by adding table decor, simple but comfortable chairs and a sturdy yet versatile table that you can take with you for your next home. Wooden furniture can be suited with all types of fabrics and makes for a smooth, relaxed feel.
Image via Ikea.com.au
3. The Kitchen
The ideal destination for gourmet chef's.
A kitchen is the heart of the home, especially when something good comes out of it. Remember that being married will be an adjustment for the both of you. What is placed in the home will be a reflection of your wonderful lifestyle.
You should have what you need from the kitchen tea, but it's also good to visit a bargain store or supermarket for the little things you'll need to buy. Bowls, utensils, tea towels, some of these items may not be the best quality, so check before buying.
Cutlery are the most used gadgets from your kitchen and it's wise to always buy your own. With many looks and designs, search for some that could suit your dinnerware and lifestyle!
Image via Ikea.com.au
4. The Bedroom
The most intimate room of all.
The bedroom is used for many things, but we never kiss and tell. Setting up could prove difficult for some couples due to the amount of storage they will need. But remember, sharing is caring!
When selecting a bed frame, you need to consider the colour scheme you want in the room. Sure, many stores offer package deals, but for those who enjoy the world of custom-made furniture, it could be a long journey.
There are couples who love 'Mr and Mrs' art, cushions and smaller mementos. Just remember that your quilt cover set and table lamps are your key decor items for the bedroom. Be sure your mind is set on a theme and work from that.
Image via Fantastic Furniture
5. The Laundry
Is the laundry that important? Yes!
With savvy storage and design choices, you can create a custom look that's all your own. Spray some colour and hang a few pieces of artwork will definitely achieve a contemporary vibe.
Everyone knows the best way to dry your clothes is outside, but when wet weather comes along, it's always good to prepare before the storm. This four-way airer from Kmart is amazing for all things large and small.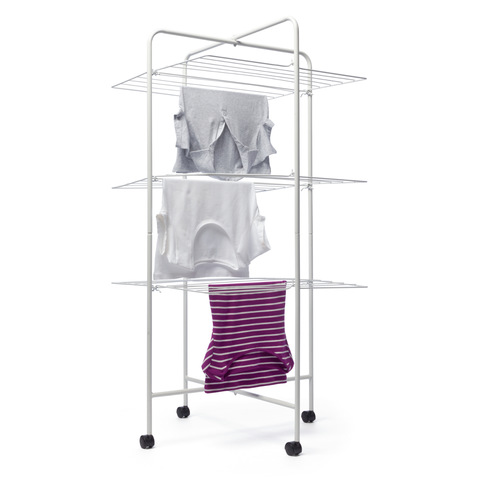 Image via Kmart
6. The Office
The office can provide many uses.
Try to locate your work space near a source of natural light. Not only for a sun tan, but enjoying light from a window can make a world of difference in how you feel.
Some couple tend to not think much of an office other than an 'extra room'. But, with fresh colours, white furniture, and shimmery accessories, your office could be the new hangout. Either way, whatever your design taste is, make it part of your work space!
Image via Fantastic Furniture
7. The Bathroom
Bathrooms are used only for one thing..
If your ever short on space, we suggest a wooden ladder or standing rack to keep towels and smaller decorative items neat and tidy. Think carefully on what you'd like to have in your bathroom as it can look cluttered very quickly.
To help maximize storage, think of adding a small cabinet to the room and floating shelves for the wall. When it comes to choosing paint, light colours are ideal for your wall. Make sure to use darker, richer tones for accents. Always remember, colour temperature can change a colour's shade.
Think of the bathrooms' personality. Silk florals or a live plant is fabulous if there's natural light available. Elements like a candle or room diffuser can add a nice scent to the room!
Image via ikea.com.au