Brides, if you're thinking about hosting your ceremony or reception in your backyard, we have some great tips for you!
Here are our 9 favourite ideas to help you have an intimate wedding right at home.
Image via A Practical Wedding
1. Planning time!
So, the important thing is that you are saving money.
Although, you must remember that you'll need to consider many things before you can commit to this idea.  First off, do you or your parents have a backyard big enough for your wedding?  Think about your guest list and about what type of reception you would like to have.
If you plan on hosting your ceremony and reception in the backyard, you'll most likely need more space.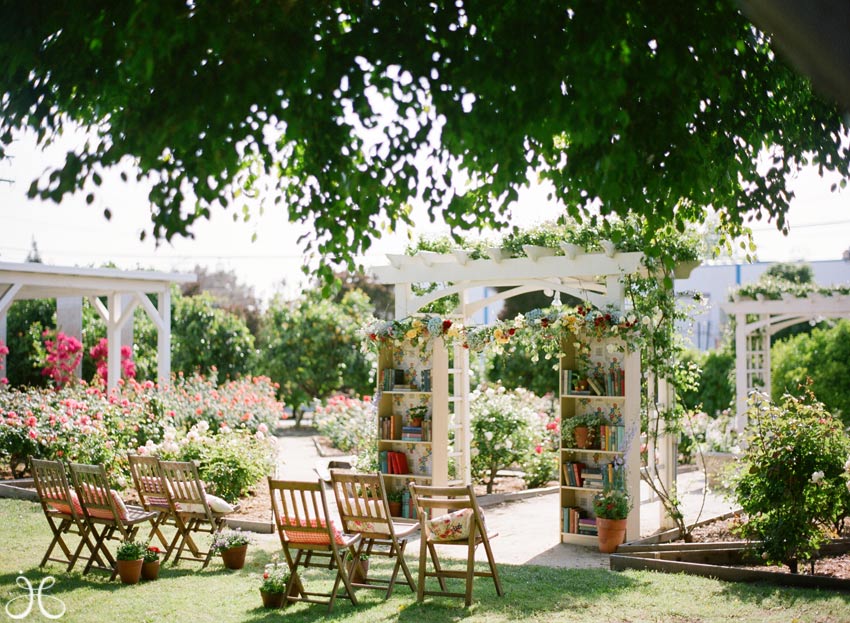 Image via The Classic Invitation
2. Theme it!
Everyone loves a good garden Wedding.
Even if it's a backyard reception, think of the aesthetic decisions. Look closely and determine if your yard could suit a vintage or rustic style. Could it perhaps be charming or whimsical?
Each theme comes with different flowers, centrepieces, chairs, lanterns, even linen.
Image via StoryBoard Wedding
3. Rent a Tent!
This may be optional, depending on your backyard layout.
More than likely, this idea will come in handy should a little wet weather come your way. Of course, it will also provide you and your guests with much needed shelter from too much sun or a light breeze.
Think of your food and table decorations. Nothing is worse than broken or damaged ornaments, especially when glass is involved. If you love privacy, then we say tents are great for backyard weddings – large or small.
Image via Detroit Weddings
4. Saturday Night Fever!
You'll want something flat and smooth, we presume?
Everyone loves a little dancing so be prepared for this. Calculating how big your space is to cater for such things as tables and dancing will help determine if a backyard Wedding is for you.
A DJ can be someone you know or even a simple song playlist will do!
Image via Every Last Detail
5. Light it up!
It's time to light it up!
Go hard or little, it's purely up to you. Don't think of the home bill when a Wedding is priceless. The best thing about your backyard is that you can do everything yourself. At anytime of the day!
We think stringing lights throughout the ceiling is fabulous. Wrap around the tent, trees, even the entire house. Chinese lanterns are harmonious, along with candles on chairs and tables!
Image via CV Homemag
6. Prepare the Ceremony!
For a Bride who loves to do everything in one place.
The ceremony can be held in any space of your home. A backyard is perfect for the warmer seasons and your lounge room could work for the cooler ones.
Think of seating, especially indoors when your guest lists climaxes to over 30. A celebrant is always happy to attend and assist you plan the ceremony.
Image via Sonoma Wedding Guide
7. The Overnighters!
Weddings are beautiful affairs celebrated with beautiful people.
Of course, once the alcohol wears off, where can your guests be accommodated?
There are bound to be more than one so we suggest extra pillows and blankets should the occasion arise.
Image via Wedding At Home
8. Food Galore!
Sometimes, caterers will allow you to employ staff yourself and this will save you money.
When finding the right food for your Wedding, there are certain questions to ponder about. Is your kitchen big enough? How much food preparation will be outsourced? Do you ask relatives to help with the cooking? How do you keep the food warm?
It can get confusing, but our best suggestion for you is to get a recommendation from a trusted friend. Then you'll only have one important question; What style food do they mostly do?
Most caterers will tell you they can do any style of food. Ask them what style they do most of the time and how many guests can they cater for.
Image via Intimate Weddings
9. Hire a Photographer!
Photographers can make a backyard Wedding look like a sophisticated affair!
If you intend on saving money, it wouldn't hurt to try out an amateur who's beginning their career in photography. Or, if you know someone who's keen for the task, even better!
Towards the end of the night, you would have appreciated the memories mentally and loved every moment physically with your partner.
Image via Alex Tenters Photography