Isn't it funny how a celebrity wedding can impact your mood, conversations and social media discussions? We all know when these events occur, they become breaking news.. and we tend to anticipate everything!
From the dress to hairstyling to venue and even number of guests. Why are we so consumed?!
Anyway.. We've created a list of our 13 favourite celebrity weddings of all times. Now, rejoice in the great memories!
1. Diana Spencer and Prince Charles – 1981
Who can ever forget the blissful Wedding ceremony of our charming Lady Diana and Prince Charles. The bride wore a traditional white David and Elizabeth Emanuel gown which was soon copied by thousands of Brides. Of course, the wedding went sour after a few years but the event had been witnessed by over 750 million people across the world.
Image via Royals
2. Whitney Houston and Bobbi Brown – 1992
When it was simple. Held at Whitney Houston's home in New Jersey, the Bride wore a $40,000 French lace gown by Marc Bouwer.
Image via US Weekly
3. Kim Kardashian and Kanye West – 2014
Divorced after being married for only 72 days, Kim Kardashian has once again tied the knot with singer Kanye West. Held in Florence, Italy, the Bride surprised everyone with a beautiful long-sleeved, high neck white Givenchy gown.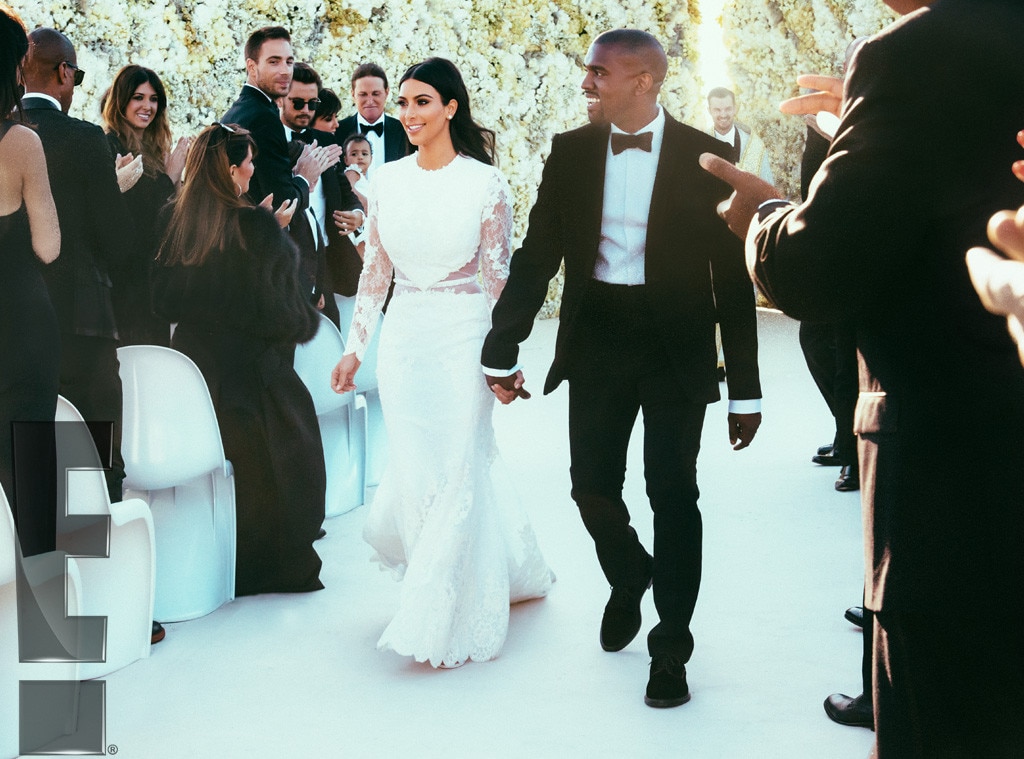 Image via E!Online
4. Angelina Jolie and Brad Pitt – 2014
We are in love with this gown! Brad Pitt and Angelia Jolie was perhaps the most anticipated moment for which fans had to wait several years. Wearing an angelic Atelier Versace gown, Angelina wed boyfriend Brad in France which was attended by their kids who helped write vows and design the drawing on her dress!
Image via KnotsVilla
5. Kate Middleton and Prince William – 2011
This was fabulous on so many levels. The Royal Wedding was gorgeous, the Bride was gorgeous, even that Alexander McQueen dress was gorgeous. The event grabbed more than 26 million viewers on national television.
Image via Livingly
6. Sofia Vergara and Joe Manganiello – 2015
Our favourite recent Wedding, Sofia Vergara tied the knot with Joe Manganiello at The Breakers Resort in Massachusetts. Vergara wore a sexy wedding gown by Zuhair Murad.
Image via US Weekly
7. George Clooney and Amal Alamuddin – 2014
Officially taken, George Clooney married Amal Alamuddin in gorgeous Venice. The Bride wore a traditional white Wedding gown by Oscar de la Renta and looked absolutely stunning.
Image via Harpers Bazaar
8. Jacqueline Bouvier and John F. Kennedy – 1953
Marrying Mr popular, Jackie Bouvier tied the knot with President John F Kennedy in Rhode Island. Apparently, Jackie was interested in a more modern and sleek wedding gown, but had to settle for a more traditional look that was prepared from 50 yards of white silk fabric!
Image via Time
9. Audrey Hepburn and Mel Ferrer – 1954
25 year old actress Audrey Hepburn married American actor Mel Ferrer. Despite all the gossip that the marriage would not last, the couple lived happily for 13 years before filing for divorce in 1967.
Image via New York Magazine
10. Victoria Adams and David Beckham – 1999
From the late ninties, this couple was a world favourite. At Luttrellstown Castle, Ireland, Victoria made her grand entrance wearing a champagne coloured strapless Vera Wang gown.
Image via Celebuzz
11. Marilyn Monroe and Joe DiMaggio – 1954
Hollywood's gorgeous sex icon Marilyn Monroe received criticism for her inappropriate attire at the low-key Wedding with Joe DiMaggio held at San Francisco City Hall. The dress was nowhere near to Monroe's previous fashion and glamour.
Image via Marriage Junction
12. Gisele Bundchen and Tom Brady – 2009
Footballer Tom Brady and Supermodel Gisele Bundchen held an extremely private wedding in Santa Monica, California. As there weren't many pictures released, Gisele was the first who shared some images from her Instagram.
Image via ETonline
13. Ellen DeGeneres and Portia DeRossi – 2008
These lovely ladies celebrated their love in the garden of their home at Beverly Hills. Wearing Zac Posen, they both made the perfect pair!
Image via WND