Effie and James' wedding was a symphony of love, style, and sheer elegance. A celebration that not only united two souls but also left everyone in awe of the beauty created when love meets meticulous planning and impeccable style.
Wedding Planning
Styled by Valentina, the genius behind Effie's envisioned aesthetic, worked tirelessly to bring her dream to reality. Every intricate detail of the day was precisely curated, adding a touch of magic to every corner. And let's not forget DJ Perri Lee, the amazing events coordinator! Effie and James had this brilliant idea of taking their guests on a musical journey through the decades, and Perri Lee made sure that the beats were spot on, keeping the dance floor lively all night long.
The Wedding Theme
Effie envisioned a Parisian dream, and every detail exhibited that Parisian elegance. From the prepping at the Hotel Windsor suite to the venue, styling, and even down to the French bistro-inspired menu, it was all about capturing the essence of Paris.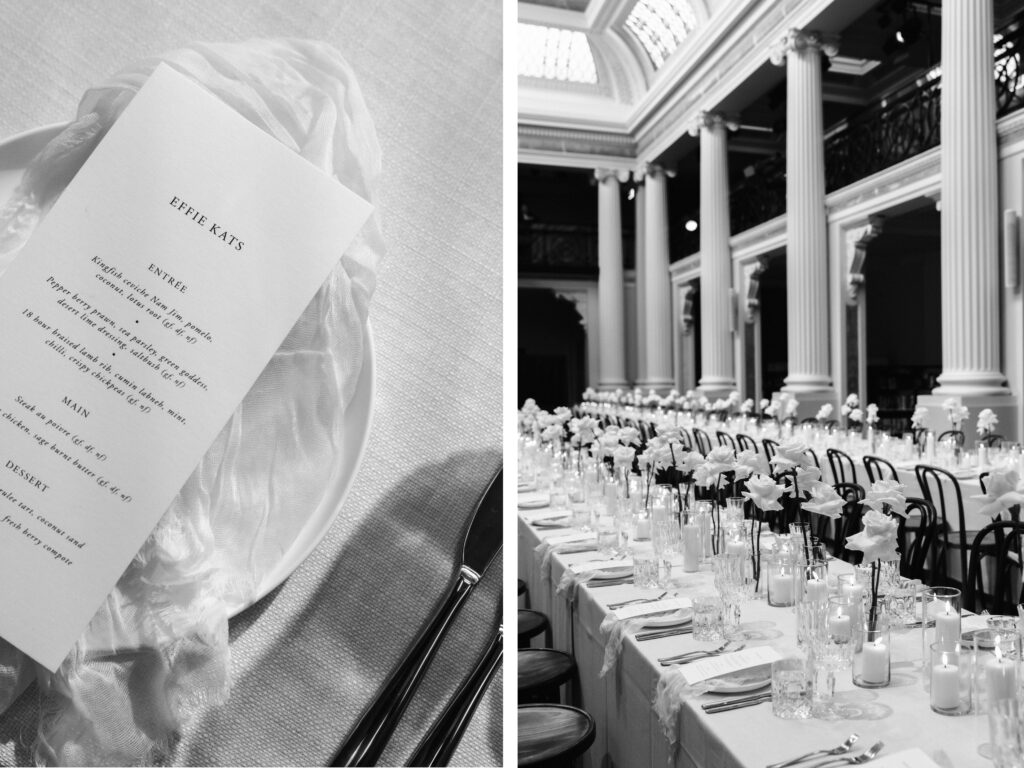 10 Words That Describe Effie and Jame's Love
Describing their love in ten words, Effie joyfully answered "We are a harmonious yin to each other's yang."
Effie's Dresses
Now, about that breathtaking Zuhair Murad gown that stole the show! Effie shared her journey to finding "the one." In Paris, after visiting several couture houses, Zuhair Murad was the last stop. The moment she slipped into that gown, it was a magical moment—all the sales assistants' gasped when she walked out. "I knew it was the one".
But wait, there's more! Effie collaborated closely with the incredible Australian Designer, Alin Lekal, for her second dress and the Mother of the Bride attire. Effie couldn't stop praising Alin's work, feeling like family and executing the brief to perfection.
The Bridesmaid Dresses
Effie's bridesmaid dresses were stunning and designed by the bride herself—a blend of classic timelessness and statement-making style. They're not just dresses; they're versatile pieces, a bodice paired with a skirt that can be worn separately. Talk about maximizing wardrobe options! These pieces will be available from Effie Kats early in the new year.
Guest Dress Code
The dress code was all about sophistication, with black tie for the men and black or gold for the women, perfectly complementing the wedding's ambiance.
Wedding Vendors
Wedding planner/ stylist: @styledbyvalentina
Wedding entertainment coordinator/ DJ Perri Lee: @djperrilee
Florist: @inbloom_bydiana
Photographer: @heartparty.studio
Content Creator: @jag.creativestudio
Venue hire: @prolightandsound
Videography: @c2films
Cake: @nikoscakes
Linen napery: @floutextileanddesign
Stationary: @paper_panache
MC: @byroncooke
Dress 1: @zuhairmuradofficial
Dress 2: @alinlekal
Singer: Joanne
Band: @cypriotstyleentertainment
Portraits: Eugene Canty
Wedding venue: State Library of Victoria
Venue caterer: @showtimeeventgroup
READ MORE: A GLAMOROUS SYDNEY WEDDING
---
To explore the latest trends, expert advice, and breathtaking inspiration in the world of weddings, don't miss out on the Get Wedded in Australia 2023-2024 digital magazine! Whether you're a bride-to-be or a wedding enthusiast, this magazine is a must-read.
Below, browse and read your free copy of the Get Wedded in Australia 2023-2024 digital magazine today.