Although weddings are most popular in Spring and Summer, Winter wonderlands are a growing trend. Think deep-hued florals against white-scapes, lacy long-sleeve gowns, dim lighting for the perfect romantic ambience and … freezing-their-butts-off guests.
It's important to consider the comfort of your guests attending your wedding, with weather being a major factor. You don't want them melting away at the reception or dying from hypothermia at the ceremony. Rest assured, we know how to keep the temperature just right at your Winter wedding. Keep reading for 7 ways to keep guests warm on your big day.
Blankets And Shawls
Be sure to keep your guests warm with an assortment of blankets and shawls. They'll welcome the gesture after sitting in a cold ceremony or standing outdoors awaiting photo callings from the Winter fairy, aka the bride. Thinking of creative ways to act on this oh-so-cute idea? Display your Winter warmers in a vintage suitcase of shabby-chic boxes. Want to hit two birds with one stone? Personalise them as keepsake favours for your guests. They'll always use them and you'll be remembered as the wedding with the best favours ever.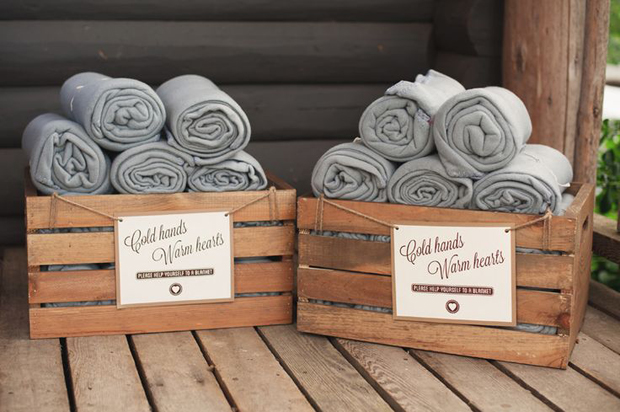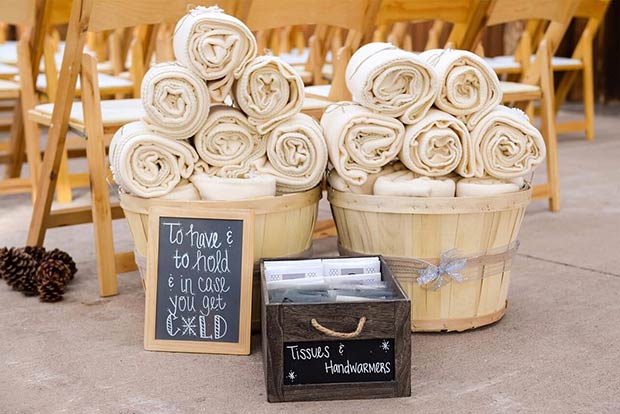 Comfort Food
The way to the heart is through the stomach. So why not warm guests with hearty serves of chunky soup, cottage pie, and bread pudding cups. You can keep the costs low and stay environmentally friendly by sourcing tasty and local seasonal produce. If you're game, switch your oh-so-sweet cake for some caramel apples, snowflake cookies and lava cake. Or churros with all the melted chocolate in the world, your choice.
Fire Pits
Nothing warms hearts faster than an open fire, literally. They are the perfect accent at an outdoor wedding in Winter. We suggest a rusty-chic or sofa-savvy arrangement for guests to warm up and wind down. They can even bond over roasted marshmallows if you're passionate about all the Winter vibes at your wedding.
Fireplace Illusion
This one's for the couples who still want to set the house on fire. If your venue can't cater for fire pits, we suggest creating an illusion! It's just like a real log fire, except you don't have to clear it up. This means you can have a fire-log projection on the wall to create a cosy atmosphere. Even if the illusion idea doesn't work for your venue, space heaters will make for great fire accents both indoors and outdoors.
Hand Warmers
Hand warmers are a clever way to keep guests warm and they will love you for it. Simply place in boiling water for a couple of minutes and they'll be ready for use over and over again. You'll be rid of chilly fingers in no time. Plus, you and new hubby can use them too. Warm your hands for all the ring-putting, hand-holding wedding goodness.
Hot Chocolate Favours
Nothing beats a warm cup of hot chocolate with mini marshmallows – the perfect Winter night treat. If hot chocolates aren't your cup of tea, you can always have a mobile coffee cart serving hot drinks to guests. It would be like your very own mini-coffee shop. And the cups better have your wedding hashtag and date on them because, hello, personalised.
Dance Away
What better way to warm up than getting the party started! As soon as your guests hit the dance floor, they'll be stepping out for a breather in 7 degree weather to start cooling down.
Cover Photo by Rusted Rose Photography
Written by Shaymah Alkhair