Her fiancé prefers that she's not in his presence. Her family has taken a precautionary 10-kilometre radius away from her. And her personal trainer has thrown boxing into her workout for 'tension' release. Yep, it might be a serious case of the Bridezilla.
Keep in mind, these people are perfectly normal outside their wedding planning experience. Suddenly, the wrong shade of tangerine is a crisis. And you, my poor friends, have to deal with this momentous time with all your discretion. You're not alone. There is a bridesmaid cult and we have compiled 7 signs you guys are dealing with a Bridezilla.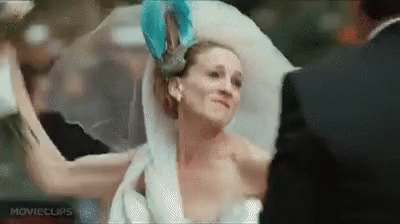 1. She's Really Moody
Her mother-in-law wants to invite her over for dinner and she flips. Does no one understand she has more important things to do, like choose table linen? There's a difference between pearl white and winter white (even though she's the only one who can differentiate). Plus, you get a tell-off too because you'd like to show her your chosen bridesmaid dress, which just so happens to coincide with her third dress fitting this week.
2. She Overthinks Every Detail
She can't help but have every conversation with you about whether she chose the right engraving on the gravy boats that are going to be served with the sixth meal. Her wedding success literally lies in whether ceramic or stainless steel will suit the overall ambiance of her wedding day, which is rustic but classic but modern but winter wonderland with springy feels.
3. She's A Registry Maniac
16 different cheeseboards is the key to a happy marriage in her now-very-crazy mind. And if the guests don't understand the need for a 830-piece kitchen-set, they're being pulled from the invite list. Be sure to explain to Bridezilla that it's more important to make sure there are affordable gifts that she will enjoy, instead of a range of dust-collecting pans.
4. She's Seriously Blowing The Budget
She's found the perfect off-the-rack dress and it's the literal match of her dream gown. But the lace on the sleeves doesn't match the lace on the invitations. So, bridezilla has decided to scrap the dress and start a custom one! It has to be the one, right? Every couple and their families have a wedding budget so be sure to remind her of that. Contrary to popular belief, it isn't all about her. This is a family celebration!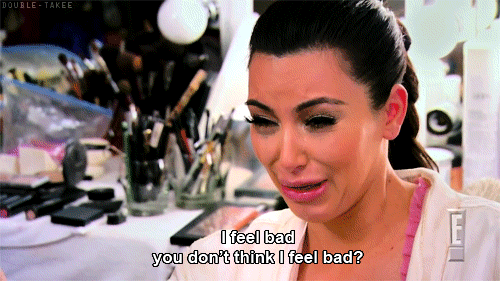 5. She's A Photo Fanatic
Has she started military classes to have everyone graduate from the better-face-side and pose academy? Is everything about the perfect picture and the correct lighting? Are you poses up to scratch or are you the reason she's telling everyone to start again? While beautiful pictures are a definite and important keepsake, try getting her to compromise on the 72 close-ups of her embroidered gown for some typical family-in-the-lounge photos. She'll thank you in 20 years time.
6. She's Competitive
Step aside Royal Wedding, because hers has to be better. Also, every new idea that comes up on Pinterest must be included. She has brides to out-do and trends to set! While it's okay to want a statement wedding, the statement should be inspired from their creative flair and be a reflection of the couple's personalities.
7. She's Forgotten About Her Future Husband
Speaking of the couple, where is the other half? Does she remember what his face looks like? They usually get pizza takeout every Thursday and for the first time in forever, she's forgotten to order his without pineapples. He hasn't even crossed her mind once in the past week. Tell her: Don't forget the reason you are getting married in the first place – to wed the love of your life and create a fabulous fusion of two families into one… plus a recovering bridezilla.
Written by Shaymah Alkhair