It's always exciting to see the outfits celebrities choose for their nuptials. American gymnast Simone Biles, who is renowned for pushing the limits of her profession, did not disappoint during her recent wedding to Jonathan Owens in Cabo. With four individually designed Galia Lahav gowns, Simone made a statement in the world of bridal fashion. Keep scrolling!
The Exact Dresses Simone Biles Wore to Her Wedding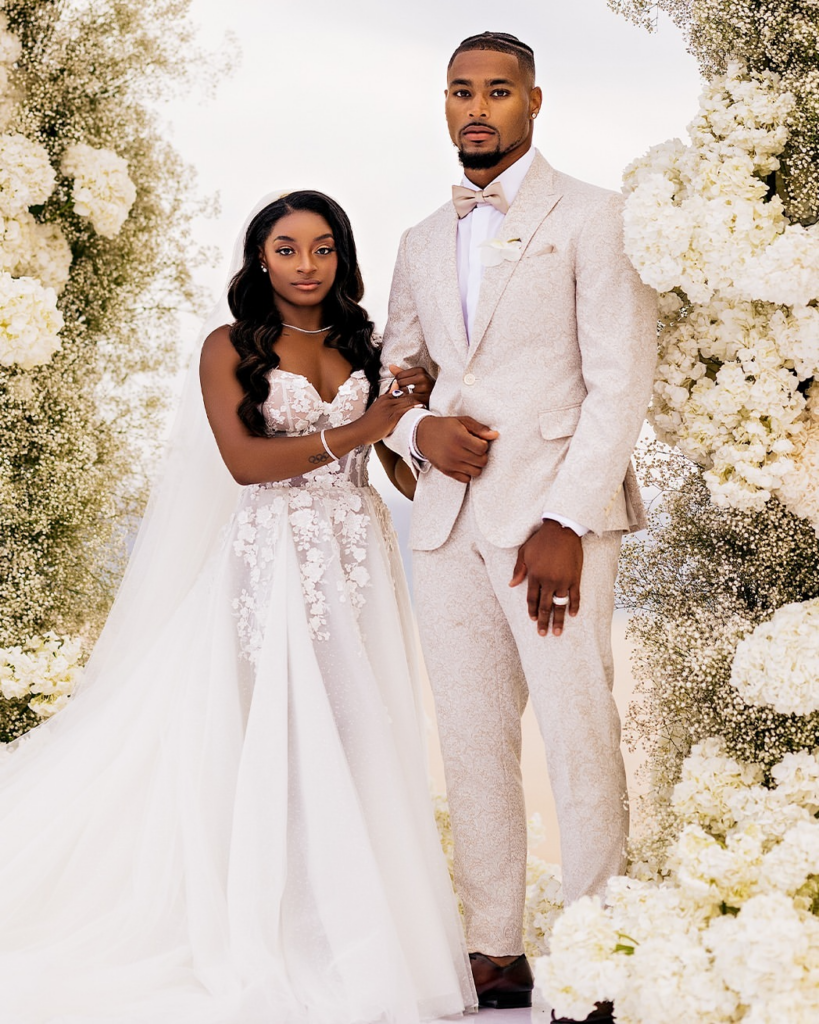 1. Wedding Rehearsal: Galia Lahav's Jill mini
The wedding weekend began with a rehearsal dinner celebration, and Simone looked stunning in a white, strappy mini dress embellished with sequins and sparkling beads. Simone let the dress be the focal point of the look and kept her accessories and shoes to a minimum.
2. Wedding Ceremony in her custom Gimaya
For her walk down the aisle, Simone chose a classic A-line silhouette dress, custom-made for her by Galia Lahav. The Gimaya dress features a classic corset with a flowing box-pleated skirt, 3D floral lace detail, and a sultry thigh-high slit. The star athlete finished her ceremony look with simple platform sandals and matching jewelry pieces.
3. Wedding Reception in a custom Maya
For the reception, Simone changed into a more body-hugging dress that showed off her toned body. This semi-sheer serpentine gown looked like the twin gown of her ceremony dress which made her bridal outfits look cohesive and intentionally created together.
4. Wedding Party in G custom version Galia Lahav's G-502
Simone ended her nuptial celebration in a highly embellished floor-length gown that cascaded into a short train.
READ MORE: HERE'S EVERYTHING YOU NEED TO KNOW ABOUT GALIA LAHAV, SIMONE BILES' WEDDING GOWN DESIGNER