Away from the stir and fanfare of a grand wedding, a civil ceremony typically takes place in a courthouse or city hall. While you could hold your nuptials pretty much anywhere so long as you secure permission—in a private home, yacht, country club, or garden, for example—the civil wedding is defined by its stripped-down nature, focusing primarily on finalizing the legal union of the couple. Due to these parameters, it's definitely practical to go with a simple, versatile dress that'll grant you more movement and comfort as you go about your busy wedding day. After all, if you and your partner opt for a courthouse or city hall ceremony, you'll be in a utilitarian space shared with other passersby, staff, and errand-runners—not the best place in which to waltz around in a floor-sweeping bedazzled gown.
READ MORE: 10 Timeless Wedding Dress Styles That Will Never Go Out of Style
But simplicity can be stylish, and practicality can still be exciting. Take the styling constraint as a challenge to deliver on understated yet impactful spice and sophistication. Ahead, we list 10 starting points for your bridal look planning. Read on!
Shop These 10 Stylish Dresses for a Civil Wedding:
1. Satin Halter Neck Midi Dress
The slinky satin slip has already proved its mettle as a wardrobe staple: there's no denying that it's uncomplicated, comfortable, and effortlessly classy. Since most party-ready dresses come in spaghetti or tie-style straps, step it up a notch with a sleek halter cut. While slightly more modest than, say, a plunging cowl neckline, this dress still manages to be quietly sultry. Style it with a small clutch and square toe heels.
Pandora satin halterneck midi dress, 1,295 USD, Galvan
2. One-Shoulder Column Gown
Evoke an Italian marble statue in a simple yet well-sculpted column gown. Its hem slightly higher than floor-length, the overall effect is elegant and formal without the burden of lavish ornamentation. The one-shoulder design is reminiscent of the togas of ancient Rome, giving your bridal look a dignified and classical aura.
Dior Dream Asymmetric Long Dress, 8,200 USD, Dior
3. Frilly Puff Sleeve T-Shirt Dress
Brides who love oversized silhouettes and funky shoe shapes will enjoy civil wedding styling—they won't necessarily have to think of synching bold fashion choices with the specifics of event decor or theming. A cotton midi with puff sleeves and dolly frills is a comfy, standout pick, and pairs well with candy accessories and chunky loafers and sneakers.
Cotton Midi Dress, 1,605 EUR, Simone Rocha
4. Strapless Dress with Soft Draping
Replicate the feel of a princess gown on a smaller scale with a flouncy ankle-length dress. This charming style is foolproof—the skirt is sufficiently formal with its rounded hip and belt detail, while the strapless draped bodice is flattering and chic.
Nally Dress, 1,422.55 AUD, Chalaso
5. Backless Blazer Dress with Padded Shoulders
Subvert the sharp, masculine feel of a padded shoulder blazer with a huge back cutout. Fashion-forward and fierce, this mini dress features a shawl collar, discreet white buttons, and slim full sleeves. Complement the plunging neckline with drop earrings.
Samantha Open-Back Blazer Mini Dress, 280 USD, BHLDN by Carly Cushnie
READ MORE: 10 Practical Reasons Why You Should Choose a Ready-to-Wear Wedding Dress
6. Strappy Mini Dress with Floral Appliqués
You can adhere to a civil wedding's functionality dress code without cutting down on lush embellishments. This petite gown is equal parts soft and sultry, owing to its long, thin ribbon straps, wide u-neck corset, and hand-pressed satin flowers.
Lilou Dress, 2,500 USD, Loho Bride
7. Backwards Halter Bodycon Dress
Emphasize your décolletage with a high-impact choker dress with a curious backwards halter cut. The bodycon fit is chic and figure-enhancing, while the ankle-grazing length retains a formal aura.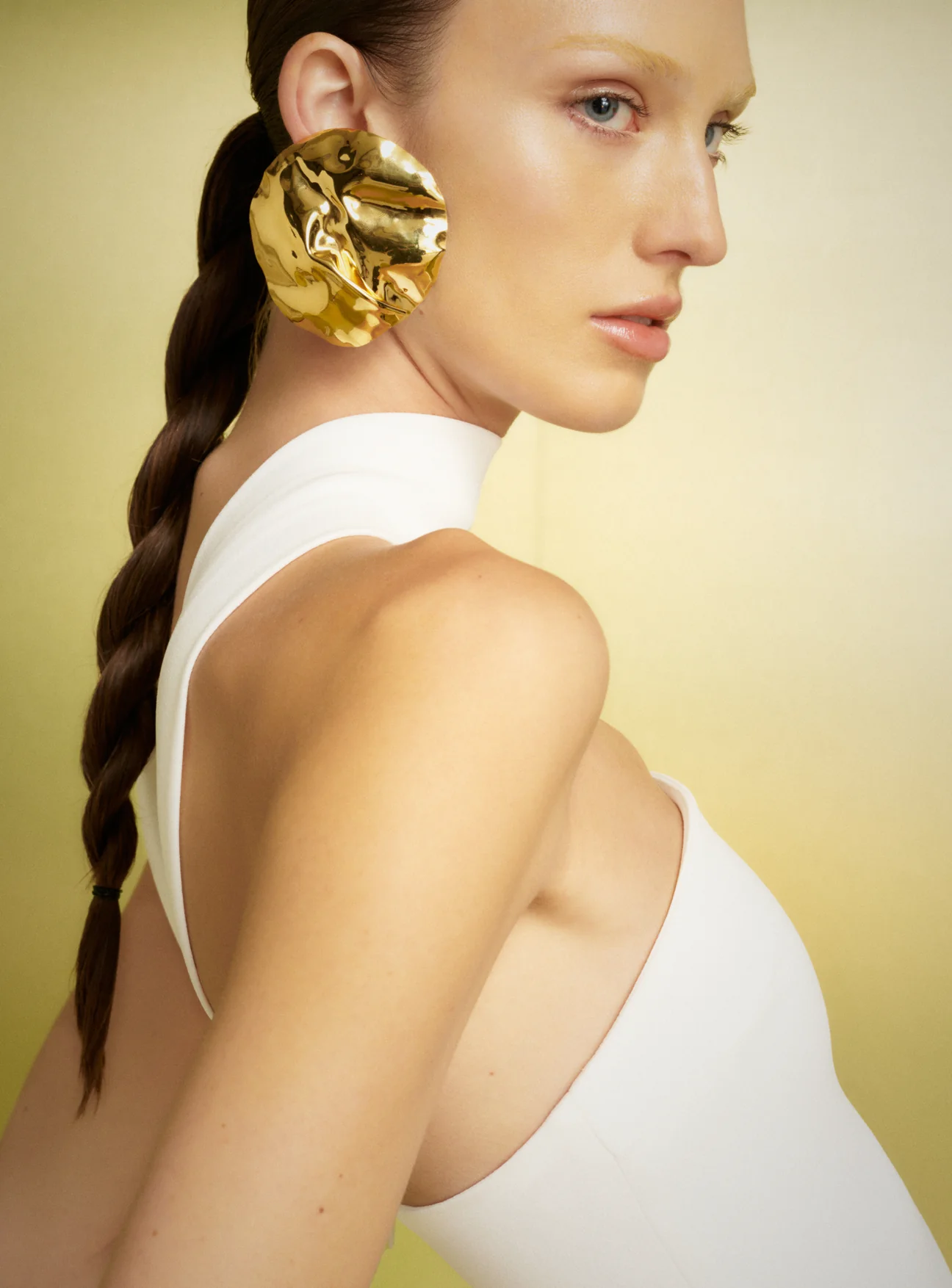 The Amari Maxi Dress in Cream, 450 GBP, Solace London
8. Sculptural Tea-Length Dress
If you're looking for an interesting design free from heavy beadwork, lace, rhinestones, and the other usual suspects, explore styles with sharp lines and clever fabric manipulation. This doll-like frock features a quaint tea-length, a pleated skirt panel, asymmetrical stitching, and an exaggerated pointed collar. To add, it comes in a vanilla shade instead of the cool-toned bridal white, which emphasizes its contemporary direction.
Charlene Halterneck Midi Dress, 428.61 AUD, Cici
9. Carefree Daisy Midi Dress
Roses aren't the only florals that can go on a wedding dress. If you're into symbols and the meanings behind select imagery, you could take a closer look into the blossoms you choose to wear to your wedding. Roses are synonymous with passionate romance, while yellow tulips are symbolic of hope. Daisies, meanwhile, stand for joy and new beginnings, making them another viable option for your wedding flowers. This light and flowy dress is studded with little daisies, giving it a youthful and fresh look.
Daisy Applique and Glitter Midi Dress, 118 USD, Storia
10. Long Sleeve Lace Dress with Collarbone Neckline
Exude elevated glamour in a lace mini dress with full sleeves and the most stunning neckline. An update on the modest boat neckline, this style follows the curves of the collarbones, including a dip in the center. This slight revision powerfully chisels the dress, modernizing the otherwise prim effect of the traditional lace.
Cher, price available upon request, Justine Alexander Signature
---
To explore the latest trends, expert advice, and breathtaking inspiration in the world of weddings, don't miss out on the Get Wedded in Australia 2023-2024 digital magazine! Whether you're a bride-to-be or a wedding enthusiast, this magazine is a must-read.
Below, browse and read your free copy of the Get Wedded in Australia 2023-2024 digital magazine today.