Sometimes simply uttering the words "wedding" or "wedding planning" can trigger significant amount of stress. Plenty of hard work, time and effort all goes into planning a wedding. It's months and months of talking to different suppliers, figuring out cake designs, meeting with your wedding planner, endless conversations with your partner, friends and family. The list goes on and on. As you plan for your wedding, it's important to make your mental health a priority. Many brides including Meghan Markle have turned to yoga as a way to relax and maintain any pre-wedding jitters.
To help stop wedding day nerves on the day of your wedding, we asked fitness expert, supermodel and founder of Body By Finch, Rachael Finch to give us her top tips on making sure that you keep calm on your wedding day.
"Your wedding day is one of the most special days in your life. You want it to be perfect. Despite the hard work that goes into planning to make it just right, there are a lot of nerves and butterflies flapping around that sometimes we can't control!"
"Incorporating breathing techniques on your wedding can not only help you stay present and 'in the moment', but your body will thank you in so many other ways."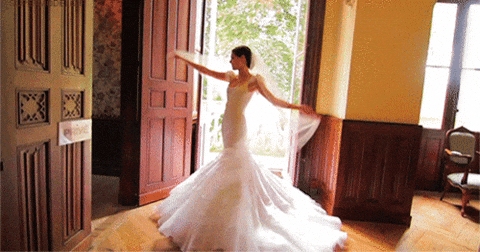 1. Simplicity is best.
Never underestimate the power of taking long, slow and deep belly breaths. This will instantly calm your nervous system and make you feel grounded. When you inhale fill up both your lungs and stomach with air and exhale slowly. In my program www.bodybyfinch.com I'm constantly talking about the beautiful benefits of deep breathing. Repeat this as many times as you like and try to only focus on your body and where you are.
2. Cherish the moment.
As an extension from the first tip, practicing mindfulness, or 'being present' can have profound effects on our mind and body and make those beautiful moments even more magical. By focusing on the breath your body is more likely to stay in the present and enjoy the moments being created in front of you. Try not to let your mind wander too much, trust in your preparation and know that all the hard work has already been done.
 3. Be the best version of you.
Taking time to breathe and focus allows you to enjoy the journey. When you are in the moment you allow your true authentic self to shine. After all, it's your special day.
4. Master of management.
There's a multitude of tasks that need to take place on a wedding day. Using breathing techniques can help calm you and gives you the ability to stay in control and not let time get away. You'll be more likely to accomplish the tasks at hand and enjoy the beauty of the day!
5. Box breathing.
A step up from deep belly breaths, box breathing can transform the way your body is thinking and feeling. It's as simple as breathing in for four counts, holding for four, releasing for four and holding again at the bottom for four, and repeating. In my program we teach a variety of breathing techniques to use in everyday life. You can practice this as many times as you like on your special day when you get a brief moment to yourself. It will help slow your heart rate and release any tension in your muscles.
6. Don't sweat the small stuff.
On a high-pressure day lots of hurdles can come your way. Slowing your breath can help you tackle the big decisions and not sweat small stuff. Remember, hiccups may appear but it's how you deal with them that counts.