Few objects symbolize wealth, status, and love quite like a diamond ring. While most people will settle for a modest diamond or gemstone, others spare no expense when it comes to expressing their affection. These rare and exquisite jewels are the stuff of dreams, coveted by those who crave the finest things in life. From sparkling, multi-million dollar diamonds to dazzling, custom-made designs, the most expensive diamond rings in the world are nothing short of extraordinary.
In this article, we'll take a closer look at the 9 most expensive diamond rings of all time, each one boasting a price tag that is almost too staggering to comprehend. For those who love jewelry or simply want a peek into the lives of the ultra-wealthy, this list will not disappoint. So sit back, grab a glass of champagne, and prepare to be mesmerized by the beauty and extravagance of these jaw-dropping diamond rings.
1. The Pink Star – $71.2 million
The Pink Star is the first in the list of the 10 most expensive diamond rings and is the ultimate symbol of luxury, boasting a 59.6-carat, oval-cut pink diamond that is simply breathtaking. The largest internally flawless pink diamond ever graded by the Gemological Institute of America (GIA), it is a true masterpiece of nature, a one-of-a-kind jewel that commands attention and admiration from all who behold it.
2. The Oppenheimer Blue – $50.6 million:
The Oppenheimer Blue is a diamond of extraordinary beauty and rarity, named after the Oppenheimer family, who once controlled the De Beers diamond company. This 14.62-carat, emerald-cut blue diamond is one of the largest and most magnificent blue diamonds in the world, with a depth of color that is unmatched.
3. The Blue Moon of Josephine – $48.5 million:
The Blue Moon of Josephine is a true marvel, featuring a 12.03-carat, internally flawless, fancy vivid blue diamond, one of the rarest and most valuable colors for a diamond. The unique and graceful design of the ring only adds to its allure, making it one of the most sought-after jewels in the world.
4. Grace Kelly's Engagement Ring – $38.8 Million:
The massive emerald-cut diamond ring drew immediate public attention when she got engaged in 1956. Although it cost around $4 million at the time, its current value is an impressive $38.8 million, making it fit for royalty and part of the House of Grimaldi's private collection. It features not one but three high-quality diamonds, with the central one weighing in at 10.5 carats.
5. The Pink Promise – $32.4 million:
The Pink Promise is a true gem, featuring a 14.93-carat, fancy vivid pink diamond of the highest quality. This stunning stone is set in a simple yet elegant ring that allows its exquisite color and clarity to shine through.
6. The Graff Pink – $46 million:
The Graff Pink is a timeless treasure, boasting a 24.78-carat, fancy intense pink diamond of unparalleled beauty. Its soft, romantic hue is accentuated by a classic emerald cut, making it a true masterpiece of design and craftsmanship.
7. The Winston Blue – $23.8 million: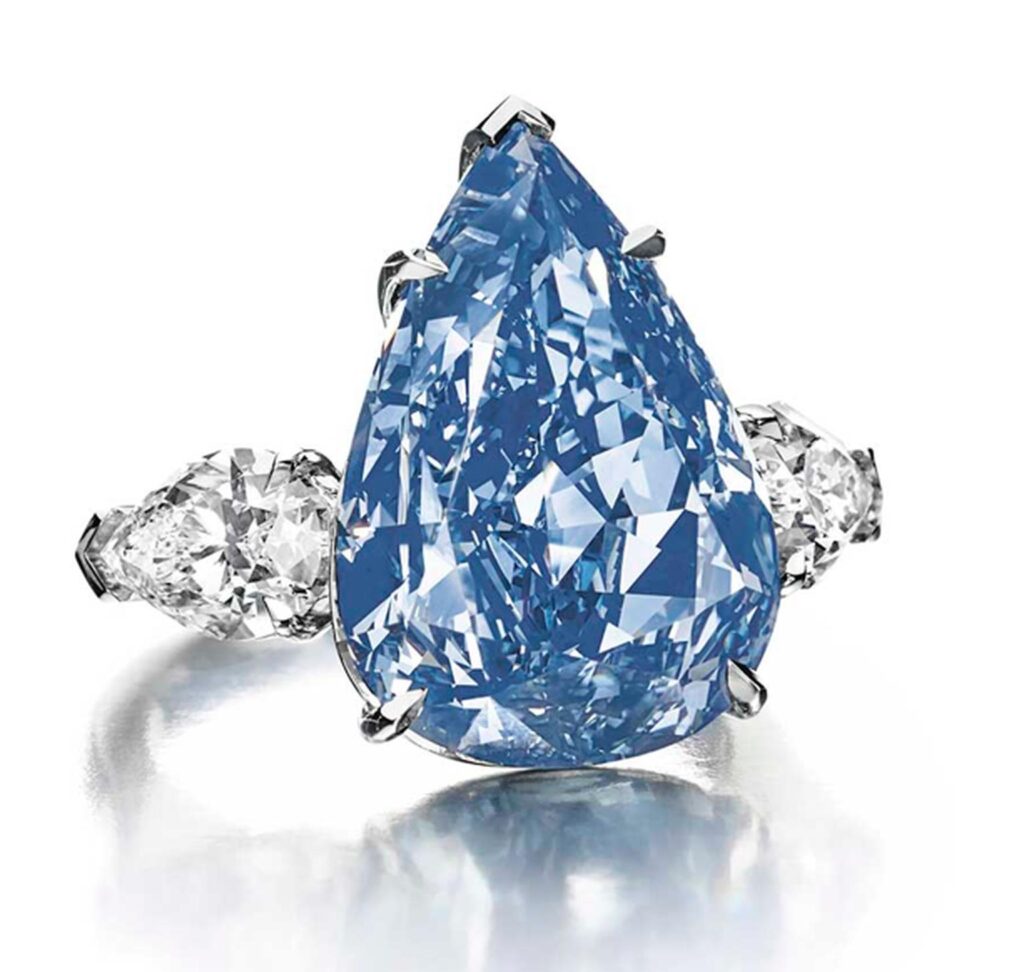 The Winston Blue is a stunning example of a fancy vivid blue diamond, which is one of the rarest and most valuable colors for a diamond. This 13.22-carat, pear-shaped diamond is the centerpiece of a magnificent ring that is both sophisticated and timeless.
8. The Perfect Pink – $23.2 million: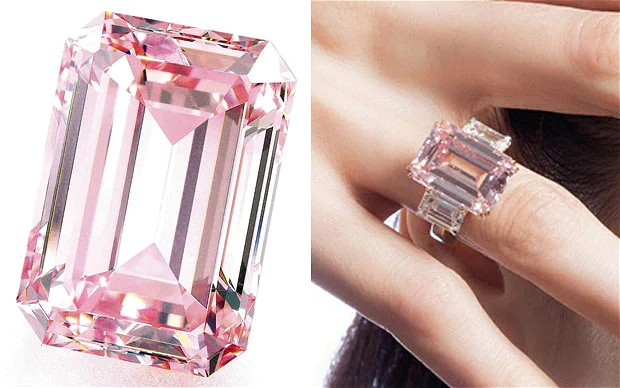 The Perfect Pink is a ring of true elegance, featuring a 14.23-carat, fancy intense pink diamond of unparalleled beauty. This exquisite stone is set in a platinum ring with two colorless diamonds on either side, creating a classic and understated look that is simply stunning.
9. The Bulgari Blue – $15.7 million:
The Bulgari Blue is a true masterpiece, featuring a rare and extraordinary blue diamond that weighs 10.95 carats. The unique, triangular shape of the diamond is complemented by a classic platinum setting, making it a true gem of both beauty and historical significance.