Ah, pregnancy. That wonderful stage of life full of love and joy, pregnancy glow and just pure happiness. Right?
Well, sort of…
Of course, pregnancy is a wonderful, beautiful miracle and it truly is amazing, but it might not always seem like it. In between all the morning sickness, sore breasts, weight gain and stretch marks, it can sometimes be a little difficult to see past all the struggles, especially when these struggles also include some nasty skin issues.
Nothing quite beats dealing with these skin issues than a little session of self-love and home beauty treatments. But here's the pickle – you've also got to be super careful about what you're slathering onto your skin because this body is home to two right now.
So fret not, because we've put together the ultimate list for all the skin products that are perfect for pregnant women. Even if you're not having any skin troubles, check it all out to find the products that won't be harming you or your baby.
What To Avoid
To get started, we're first going to let you know about the ingredients you definitely need to avoid.
If you've had experience with cystic acne, or know anyone that has, you'll also know about something called isotretinoin (formerly known as Accutane). This bad boy is a miracle worker when it comes to clearing out those volcanic bitches pesky spots, but it's also SUPER dangerous for babies and can cause birth defects. So avoid any product containing isotretinoin AT ALL COSTS. Seriously, this is no joking matter.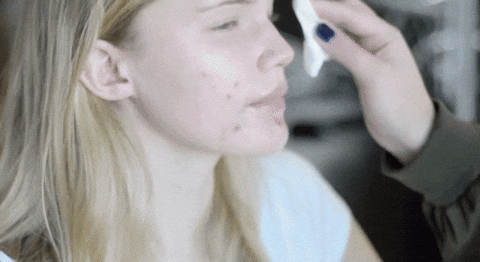 Next up are retinoids. They're in the same drug family as isotretinoin, and although applied topically and have a low chance of being absorbed by your body, it's still a safer bet to avoid. Retinoids are a pretty popular ingredient though, so double check the ingredient list before you use any products.
Salicylic acid is a BHA and another product that is really popular when it comes to treating acne but be careful. If taken orally and in high doses, it can cause birth defects. However, topical serums, creams and toners are considered low-risk but we're thinking that if you can avoid it, please do. If you don't see the words salicylic acid, then watch out for BHA.
If you're unsure about any product or ingredient, even the good ones, do consult your doctor, dermatologist or obstetrician. It's always better to be safe than sorry.
1. Triple C Lightning Liquid
Moving on to the good stuff now, our first product is COSRX's Triple C Lightning Liquid. A key ingredient in this serum is Ascorbic Acid or Vitamin C, and that is honestly where it's at.
Vitamin C is a great antioxidant that needs to be your holy grail not just during pregnancy, but before and after as well – you definitely don't need to be preggers to use this. The vitamin helps reduce inflammation, pigmentation irregularities, and boosts collagen, which is great for dealing with acne scars and giving you an overall brighter complexion.
If you're new to something like the Lightning Liquid, be sure to slowly introduce it into your skin routine. It's powerful stuff, guys.
2. Bio-Oil
A bit of an obvious one, we know, but Bio-Oil has lasted through the ages, and for good reason. It really does do wonders when it comes to preventing stretch marks.
About 75-90% of pregnant women experience stretch marks, so you won't be the only one concerned about this. Rub it in circular motions where needed twice daily throughout your pregnancy, and afterwards as well.
3. Bio-Peel Gauze Peeling Lemon
It's super important to exfoliate your skin at least once or twice a week. Exfoliating helps to remove any dead and dry skin cells for a brighter complexion and glowing skin. But be wary, those harsh exfoliants with the little beads aren't the best for you skin, so a chemical option is the way to go.
Check out this Korean Beauty product, the Bio-Peel Gauze Peeling Lemon, for a gentle solution. It comes with 30 pads that have two sides you can use to really wipe away any dirt from your face. The great thing here is that they don't contain any harsh chemicals, but instead contain glycolic and lactic acid. These two ingredients are totally safe to use during pregnancy.
The product also contains Vitamin C, which we all know now is a banger of a vitamin.
4. Mama Mio Pregnancy Boob Tube
The Pregnancy Boob Tube is a moisturiser for your chest area (duh), and thanks to the Shea butter and omegas it contains, it works well to maintain elasticity and keep your boobs hydrated. While your breasts are filling out into a bigger cup size, this product will be your best bud.
Mama Mio has some pretty prolific users, including Jessica Alba and Khloe Kardashian, so you know there's some credibility here. They've also got a whole range of products that are perfect for pregnant women, so be sure to check them out.
5. Palmer's Cocoa Butter Formula Bust Cream
We've thrown this in as a dupe for the Mama Mio product. It's cheaper, coming in somewhere between $10-15, compared to the Boob Tube's $45. It's also easier to find in Australia.
The Bust Cream is pretty similar to number 4 in that it helps to firm up your bust area. It contains Shea Butter, Vitamin E, and collagen, so it's all good stuff.
6. Dermalogica Essential Cleansing Lotion
This essential cleansing lotion is a great cleanser that doesn't contain any of the ingredients we previously warned about, so you know you'll be safe here. It helps to nourish and maintain moisture levels, so it's perfect for any expecting mums experiencing some flaky, dry skin.
Dermalogica is a popular brand and it's stood the test of time, so you're definitely safe here. It's widely available around Australia too, so thumbs up for this cleanser!
7. Hana Cream
You're going to need a moisturiser to finish off your skin-care, and this Hana Cream by J.One is a great option. It's an anti-ageing cream, which is brilliant for giving you that youthful, lifted, and firm skin.
It's also pretty fun to use, which is always a bonus. You just take the little capsules and crush it between your fingers before applying it to your face. Honestly, we're sold with just that.
Written by Hanan Merheb
Cover photo by @mamamioskincare