You've spent all your life savings on the perfect wedding, and soon find yourself crippled in heels. It's hard work being a bride, from walking down the aisle, doing your fair share of meet and greet rounds, standing for hours of photos and dancing the night away – all while being 4 inches uncomfortably taller.
Brides need their wedding shoes to be as comfy as their favourite sneakers but as glamorous as their diamond ring – is that too much to ask? Yes. So we haven't invented a super product that makes you feel like you're sporting the whole day in waffle socks, but we've rounded up some easy life hacks, so that your soles, and soulmate are on par for the big day.
Toe Taping
This theory has been tested by a New Yorker who caught the subway, walked through Central Park, grabbed a hot-dog at Times Square, braved the Met Steps and shopped through Fifth Avenue – in heels, the whole time, literally. She credited taping her third and fourth toe together for being able to strut in heels the whole day. The science behind this one is that the tape relieves pressure on the nerve between those two toes, which apparently causes most of the pain. Plus, it helps shift the weight on your feet in heels. Something old, something new…and tape?
Via Today
Photo Faux
Of course you need a stunning pair of wedding shoes. How else are you going to perfect that close-up shot that zooms in on your beloved bridal slipper? However, that's pretty much the only time anyone will be getting a glimpse of your wedding shoes, which means you can pack away those beauties after the pictures and switch to your most comfortable pair. The shoes will remain sentimental and you can always wear them to other events, like date nights, where you're not standing for 18 hours straight. We're brilliant, we know.
Via Sophia Webster
Gel Insoles
There are various types of heel insoles to help you on your Big Day. From arch shaping insoles to keep pressure of your foot and cushion support for toe grip, they're basically there to eliminate all the complications that come with the art of heel-wearing. Talk about reaching new heights, literally.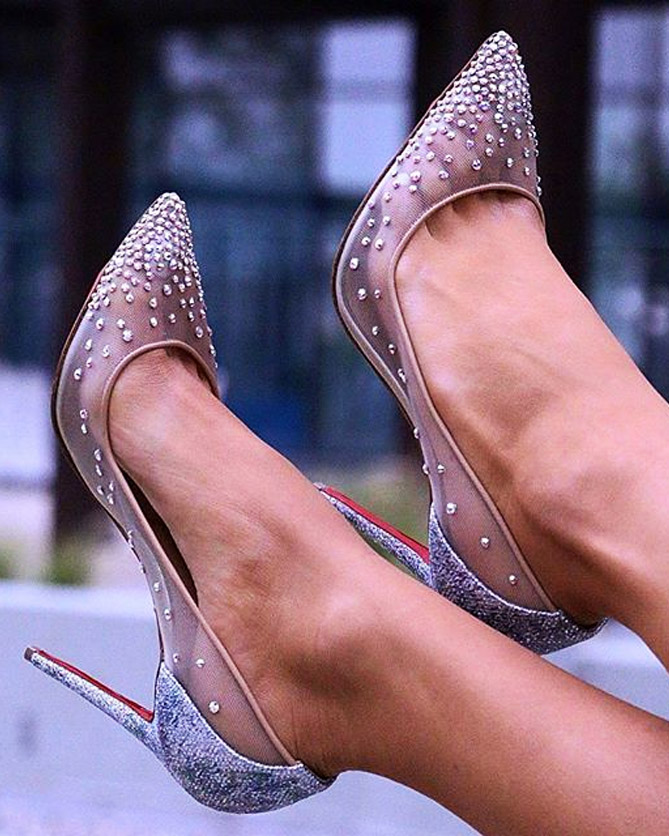 Shoes: Christian Louboutin
Socks And A Blow-Dryer
We call this one resistance training. Make sure your wedding morning isn't the first time you're strapping on your wedding heels. Strut in the fancy footwear with socks around the house so that in the lead up to your wedding day, they will soften to the shape of your foot, upping the comfort level. Bring the heat, literally, by wearing your socks and and heels while blasting the blow-dryer for 30 seconds. Move the nozzle to different areas to avoid overheating. This will surely loosen up the fabric of your shoe for a comfortable fit.
Shoes: Badgley Mischka
Numbing Cream
This one is from one bride to another.
"I was in my heels all night with no pain because of my maid of honour's trick. She bought pharmacy grade numbing cream which we put on the bottom of our feet in the morning and before the reception. We could dance all night!"
It's like anesthetic… for the feet.
Flats
The evening is here and you're ready to party with family and friends. We don't blame you for wanting to be comfortable on your Big Day. You want to have the time of your life, not feel like you have less time to live, because the heel pain has gotten to your chest. Flats are a great option here because they can still run with your bridal look. The 3PS – practical, pretty and painless. And you thought the 4Cs were important.
Written by Shaymah Alkhair