Shopping for your dream dress is equally exciting and glamorous as it is stressful and taxing. When it's time for the big day, we understand the pressure (and desire) to feel like the most beautiful bride in her perfect dress. In the lead up to the wedding, you'll pursue countless magazines, boutiques and Instagram screenshots for all the inspo you think you need.
However, brides tend to make common mistakes when experiencing the wedding dress kerfuffle. So, before you begin trying on as many gowns and veils as you can bare, here are 6 mistakes to avoid when shopping for your wedding gown.
Choosing A Dress That's Not 'You'
Believe it or not, when it comes to wedding dress inspo, the best sources aren't Pinterest or bridal publications (except this one). In fact, it's your very own closet. When you pull out your favourite pieces, there will be something similar across all of them. So if you've never worn an embellished top, it's not a must on your wedding day. And if you hate floral, you don't need those cute little blossoms embroidered all over your gown
The perfect wedding dress for you isn't the one that's filled with a couple of bridal cliches, it's the one that expresses your personal style. Also, while you may be sure that an A-line silhouette is perfect for you, it may not do your body justice the way you thought. So be open-minded in that your vision may not play out exactly as it does in your mind.
Disregarding The Budget
It is really important to define the budget when searching for your fairy-tale gown because there's no magic that will bring back the savings you poured into it. We know how easy it can be to forget about the budget when swimming in an ivory rabbit-hole of dresses. You don't want to fall in love with a dress you can't afford, so a good question to ask yourself is what price-tag will have you forfeiting the frock.
Communicate your budget with the dress consultant to avoid heartbreak from falling in love with a dress that's not in your price range. Don't forget to consider veils, alterations, shoes, accessories and an after-party look (should you have one) when deciding what you're comfortable with spending.
Shopping For Your Bride-Body
There's no doubt you want to look your best on your wedding day. And we applaud you if you're forgoing carbs for some body toning. However, we recommend you buy a dress that fits your body now, instead of how you think it will look in the future. Remember, it is much easier to make the dress smaller than it is to add extra fabric on the bustier of a strapless gown or, even worse, spend a life-changing day in a dress that is suffocating your intestines. You don't want to be making any last-minute frantic alterations and blowing your budget after having carefully maintained it.
.
Bringing Too Many People To The Dress Appointment
Here, the more the merrier does not apply. Two's a crowd and three's a party. Your whole network of family and friends do not need to be present. In fact, it's nicer to surprise most of them on the day anyway. Choose an intimate circle of people that will make the experience fun and who know your style. More people means more opinions and you don't want to be swayed by too many voices that cloud your judgement. This is supposed to be a sentimental time, and you shouldn't care that aunt Kelly doesn't like your dress. She wears rainbow socks with crocs.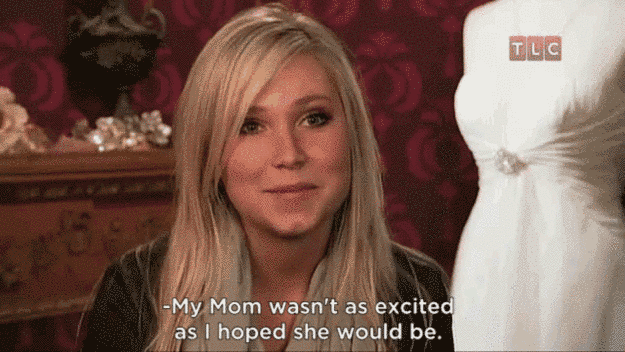 Looking At More Dresses After Finding Yours
The last thing you want to be doing is second-guessing your dress decision after the whirlwind that was finding it. When you wear that dress and look in the store mirror, you just know. So don't go doubting yourself after your favourite designer releases a new collection. You have your dress and it is stunning and it's time to shut that part of your brain and move on. Otherwise you'll go crazy!
Placing Too Much Pressure To Find The Perfect Dress
What you're going to wear, how you're going to look and which side you're parting your hair are all big decisions on the day, but they are not the be-all and end-all. The defining moment of the day is that you are marrying your soulmate.So if you find yourself on all-consuming Pinterest binges and plotting every bridal boutique within a 50KM radius, slow down, take a step back, and remind yourself why you are here in the first place. In 20 years time, having the longest trail in history won't matter as much as enjoying life with your best friend.
Written By Shaymah Alkhair