Your wedding day is a special occasion that deserves to be remembered and cherished. One way to create lasting memories is through unique and Instagram-worthy wedding decor. From enchanting floral installations to personalized touches, these creative ideas will make your big day truly unforgettable. Get ready to inspire and impress your guests with these 10 captivating wedding decor ideas.
10 Unique and Instagram-Worthy Wedding Decor Ideas you could try:
1. Whimsical Hanging Lanterns
Create a romantic atmosphere by hanging a cluster of delicate lanterns from tree branches or an outdoor canopy. Choose lanterns in various sizes, colors, and patterns to add a whimsical touch to your wedding venue.
2. Vintage Photo Wall
Set up a vintage-inspired photo wall where guests can capture candid moments. Hang old family photographs, antique frames, and fairy lights to create a nostalgic ambiance. This charming backdrop will be a hit across all ages.
3. Living Flower Wall
Bring nature indoors by incorporating a living flower wall into your wedding decor. Use an assortment of vibrant blooms, such as roses, peonies, and hydrangeas, to create a stunning backdrop for your ceremony or reception. Not only will it look breathtaking, but it will also infuse the air with a delightful fragrance.
4. Eclectic Table Settings
Ditch traditional table settings and opt for an eclectic mix of vintage china, mismatched glassware, and vibrant textiles. Add a touch of elegance with gold accents and fresh flowers as centerpieces. This mix-and-match style will add a playful and charming vibe to your reception.
5. Hanging Macramé Installations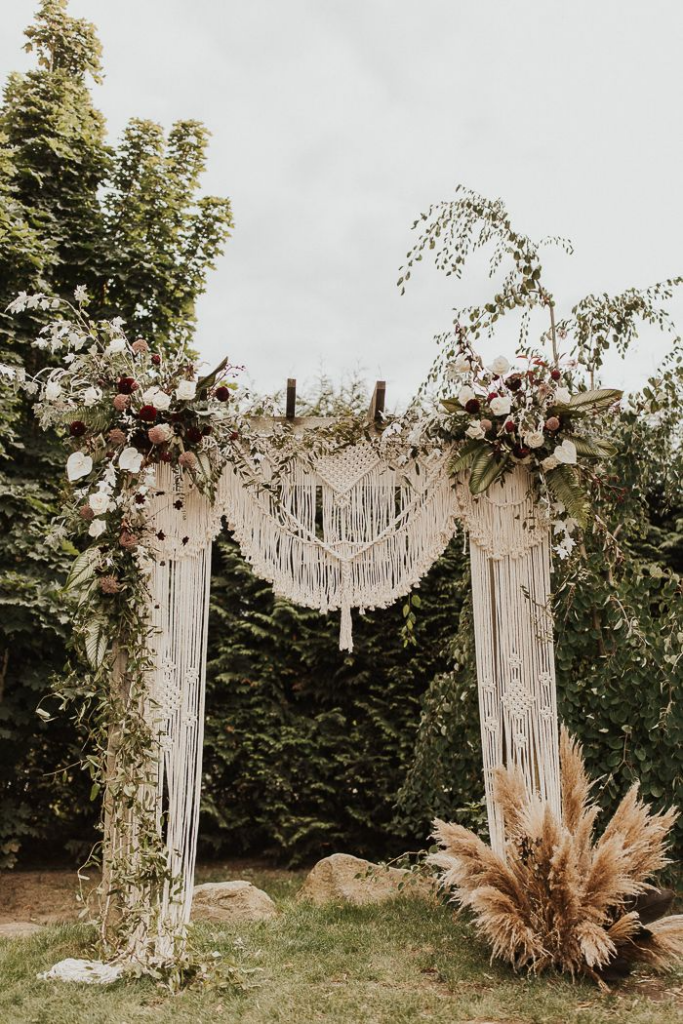 Embrace the bohemian trend with intricate macramé installations hanging from the ceiling. Use macramé backdrops for the ceremony, or as a focal point for your reception area. The intricate knots and unique patterns will create a mesmerizing visual display.
6. Garden Swing Seating
Replace conventional chairs with charming garden swings for a whimsical seating arrangement. Hang these swings from sturdy tree branches or set up a dedicated swing area. Your guests will love the opportunity to relax and swing as they celebrate your special day.
7. Geometric Terrariums
Incorporate geometric terrariums as centerpieces or hanging decorations to add a modern touch to your wedding decor. Fill them with succulents, air plants, or fairy lights to create a contemporary and visually captivating display.
8. Fairy Light Canopies
Create a dreamy ambiance with cascading fairy light canopies. Hang them above the dance floor, outdoor seating area, or along walkways to add a touch of magic to your wedding. The soft glow of the lights will create a romantic and enchanting atmosphere.
9. Custom Neon Signs
Personalize your wedding decor with custom neon signs featuring your names, initials, or favorite quotes. These illuminated signs make for stunning photo backdrops and will add a modern and trendy element to your celebration.
10. Floral Chandeliers
Elevate your wedding decor with luxurious floral chandeliers. Combine cascading blooms, greenery, and delicate fairy lights to create a breathtaking overhead display. These floral chandeliers will transform any venue into a fairytale setting.
READ MORE: 10 NON-TRADITIONAL WEDDING ENTERTAINMENT IDEAS YOUR GUESTS WILL LOVE