Introducing the Johnson's! The Bachelor's golden couple Laura Byrne and Matty J tied the knot on the 11th of the 11th and made their wedding day wishes come true. Matty and Laura celebrated at Cupitt's Estate in the NSW's South Coast , surrounded by family, friends, their beautiful daughters Marlie-Mae and Lola and their guest of honour, Buster (their beloved three-legged dog).
The Big Day Has Arrived
Experiencing multiple postponements from COVID childbearing and the cha cha (Matty's Dancing with the Stars Debut), the couple couldn't have been more excited for this day!
Following her gorgeous daughters in their princess-like gowns, Laura walked down the aisle in her stunning KYHA Studios gown to say I do to her Bachelor beau. Looking dapper in his MJ Bale suit Matty J awaited with a sparkle in his eye, in awe at his Bride. By his side, stood his sister Kate serving as a best-lady (we spot a 2023 trend)!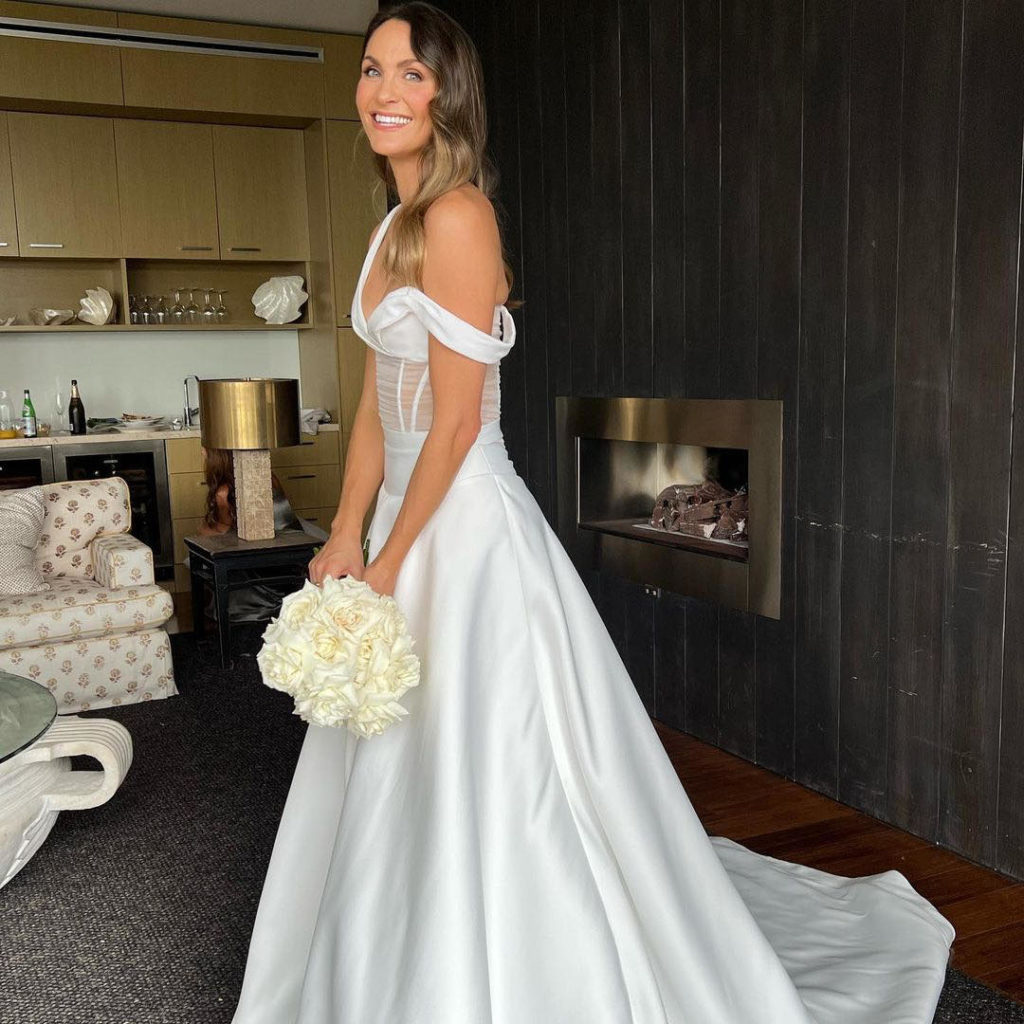 The Vows
They professed their undying love for each other through passionate and extremely HONEST vows! Wearing their hearts on their sleeves the couple shared exclusive details about their thoughts when first laying eyes on each other (on National television), their endearing qualities and attractive physical features (throwing in some cheeky humour). Matty delivered many loveable and laughable words of admiration, stating that Laura was his "perfect woman" and that she'd "finally managed to lock him down". He then continued to compliment her success and joked revealing that she makes more money than him (#bosslady). The ex-bachelor worked his way to his perfect match and was overcome with emotions when his wife said that "The life that you and I are building together is more than I ever could have dreamed of". Promising to fill their lives with "laughter, fun, silliness and happiness, and tell you and show you that I love you daily" the newlyweds brough their guests to tears.
Proudly displaying their love to the world, the pair wrapped their arms around each other and enjoyed a passionate kiss after saying 'I do'.
The Morning After
After their special day, the newlyweds took to instagram snapping a picture fresh out of bed. Flashing their new bling, Laura posted saying "It's not everyday a man gets to wear diamonds… or is it ?! @matthewdavidjohnson".
Bride @Ladyandacat
Groom @matthewdavidjohnson
Photography @alexmarksphotography
Venue @cupittsestate
Dress @kyhastudios
Suit @mjbale
Makeup @cassandralusi_mua
Hair @christopher__hunter
Flowergirls @princessboutiqueaustralia