Prince Harry may have found The One in actress Meghan Markle but the once eligible Prince Charming has had a rocky history when it comes to relationships – all in front of the eyes of the world.
If it were ten years ago, most of us could have placed our bets on Harry marrying Chelsy Davy, perhaps his most well-known ex. But the on-and-off relationship was not meant to be – neither was his other highly-publicised relationship with Cressida Bonas – and it may have had something to do with Harry's desire to start a family.
According to Victoria Arbiter, 9Honey's royal correspondent, "Harry made it no secret for years; he was desperate to settle down. He was desperate to have children. You see him with kids and you just know he's going to be a great father.
"But it is incredibly difficult in his position to find someone that's prepared to take it on."
Turns out Meghan is that someone, and she'll be walking down the royal aisle on May 19. But before that, we're taking a look at all the women who could very well have been the future Duchess of Sussex.
You'll Also Like:
When Harry Met Meghan: A Hollywood-Meets-Royalty Fairytale
The 6 Royal Rules That MUST Be Followed When Kate Middleton Gives Birth
7 Ways Meghan Markle Is Modernising The Royal Family
Natalie Pinkham
The British television presenter was linked to Prince Harry in 2003 after being spotted enjoying the London nightlife together. Although there were rumours of a relationship, the Sky Sports F1 presenter addressed the media in 2006 to insist that the two were nothing more than friends (having first met in 1999) and that Harry's then-girlfriend, Chelsy Davy, "had nothing to worry about."
Pinkham, who is now married with two kids, was infamously involved in Harry's groping photo scandal. The Sun, who first published the images without permission, issued an apology soon after.
Cassie Sumner
In 2004, Harry was linked to glamour model Cassie Sumner after meeting at nightclub, Chinawhite. In an interview given by Sumner, she said that the Prince was first seen with another glamour model, Lauren Pope, before turning his attention to Sumner. She was 21 and he was 19 at the time. Of their short time together, she said, "If I'm honest I didn't really fancy Harry. I prefer more muscles on a man. But he came across as a lovely lad who was just enjoying a normal night out like any red-blooded single 19-year-old."
Catherine Ommanney
Catherine Ommanney was linked to Harry in 2006 and then went public about her secret affair with the prince, who was 21 at the time while she was 34. The Real Housewives of D.C. star said their short-lived affair involved some kisses and text messages, but died after a few days. Although Ommanney was single at the time, Harry was apparently still involved with Chelsy Davy.
Chelsy Davy
Harry's longest relationship was with his first-love, Chelsy Davy, a Zimbabwean solicitor-turned-jewellery designer who he dated on-and-off from 2004 to 2011. The pair first met in Cape Town through friends and have a tumultuous relationship, although Chelsy was by his side for important events, including the marriage of Prince William and Kate Middleton in 2011. Describing herself as a "normal kid" during her time with Harry, Chelsy told the Times in 2016 that the media attention was "so full-on: crazy and scary and uncomfortable. I found it very difficult when it was bad. I couldn't cope."
Reuters
Natalie Imbruglia
After breaking up with Chelsy in 2009 (before they rekindled their relationship), Harry was linked to Australian singer and actress, Natalie Imbruglia, after the two were introduced by Sir Richard Branson's son, Sam. They were spotted bowling together and attending a concert by The Killers, but in an interview with Red Magazine, Imbruglia set the record straight, saying in response to whether they were involved, "No. I know him, but no."
Astrid Harbord
In 2009, Harry was seen partying in Chelsea with Astrid Harbord, a friend of Kate Middleton's, even taking her to Clarence House while Charles and Camilla were away. The relationship became nothing more than friends after that.
Caroline Flack
Back in 2009, Harry was linked to Caroline Flack, host of The X Factor, after being introduced by their mutual friend, Natalie Pinkhan. In an extract from her autobiography, Storm In A C Cup, Caroline wrote about their short-lived relationship, calling herself "Prince Harry's bit of rough." The two called it quits after their relationship was outed by the press.
Camilla Romestrand
During another break from his relationship with Chelsy, Harry was linked to Norwegian rock singer and lead of Eddie The Gun, Camilla Romestrand. According to a source, Camilla spoke "about staying overnight at 'the Palace.' She says he was a 'total gentleman,'" even bringing her breakfast in bed. The relationship apparently ended due to the "long-distance" between them.
Florence Brudenell-Bruce
After officially calling it quits with Chelsy Davy (for real this time), Harry dated lingerie model, Florence Brudenell-Bruce in the summer of 2011. The relationship came to an end as Harry apparently didn't want to be "tied down" and wanted to focus on his helicopter training before returning to Afghanistan.
Cressida Bonas
Harry and actress Cressida Bonas were first introduced by his cousin, Princess Eugenie, and soon after began dating. The pair were together from 2012 until 2014, with the reason for their split apparently due to the constant media scrutiny they faced. According to Ingrid Seward, a royal expert and friend of Cressida's mother, Cressida found it difficult to deal with the constant criticisms of the public, with Ingrid saying Cressida "just couldn't take it. She just thought 'why are they getting at me.'"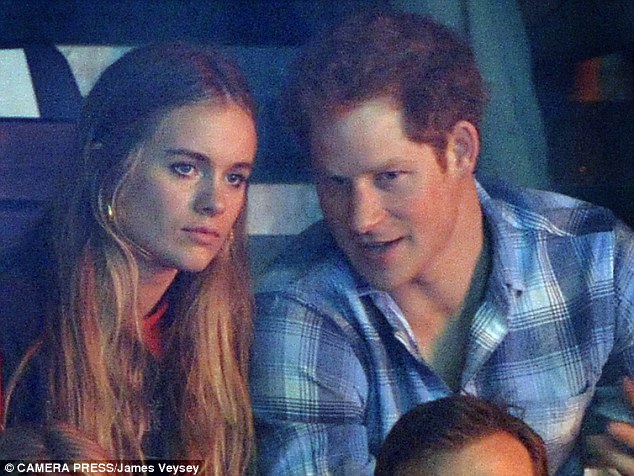 James Veysey
Mollie King
Harry and Mollie King, an member of English girl group The Saturdays, briefly dated in 2012 after being spotted around London's clubs. The pair had apparently been friends for two years before things became romantic, however Harry ended the relationship as Mollie "[seemed] to be enjoying the publicity a bit too much."
Ellie Goulding
Rumours of Prince Harry and Ellie Goulding dating first sprang up in 2016 after the two were reportedly "canoodling" at the Audi Polo Challenge. Harry and Ellie were first introduced at Prince William's wedding and remain friends, with Ellie apparently invited to Harry and Meghan's wedding, along with Chelsy and Cressida.
Images via Getty unless otherwise stated.