Buying kids' shoes online can sometimes feel like a daunting task.
Between groceries, household chores, and running around after little ones, a mothers job couldn't possibly be anymore gruelling. So, to make your life a little easier, we've explored all things online kids' shoe shopping.
Surely a more convenient option, when it comes to buying kids' shoes, what could be more relaxing than sitting on your favourite lounge searching store by store? Of course, there are a number of important things you need to consider beyond knowing your child's foot size.
Our fabulous guide to finding kids' shoes online can help you find some great shoes at amazing prices. We bet you didn't know some of these hidden gem websites!
Did you know Badgley Mischka caters to your children too? Chic meets shimmery when it comes to Macy's elegant embellished and casual range.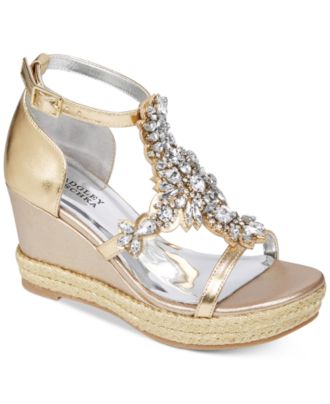 Image via Macy's
From baby Nikes to youth Converse, HYPE DC offers a range of diverse colours and materials for baby, kids and toddlers. Did we mention that you can buy now, pay later?
Image via HYPE DC
Surfstitch can help those hard-to-buy kids with an unlimited colour variety and brands for school, casual, even formal wear.
Image via Surfstitch
Sometimes, it's all about the pizzazz. UMI Shoes will keep your children's feet happy (especially in these comfortable moccasins).
Image via UMI Shoes
Made for the urban lifestyle, Platypus Shoes are famous for hipster brands such as Timberland. Built to last, these trademark chukkas is the footwear your kids dream of.
Image via Platypus Shoes
You may also like:
10 fabulous sneakers for your Wedding
These are the poshest Baby names of 2017