No doubt, weddings are expensive but one maid-of-honor found it all to be too much when her maid-of-honor expenses started to pile up.
The anonymous maid-of-honor took to Mumsnet to vent her frustrations about the very costly wedding. The bride is requesting for each of her 18 bridesmaids to pay for their own bridesmaid dresses and asking the maid-of-honor to organize an overseas hen's trip as well as facials and beauty treatments leading up to the wedding.
"As time has gone on this wedding seems to be getting bigger and bigger. She has now asked 18 people to be bridesmaids. She also has multiple flower girls and page boys. She's now realised that the cost is going to be astronomical so has told us that we will be paying for our own outfits."
"I've been getting messages from a few other bridesmaids about the hen do, apparently friend has been telling them she wants to go abroad and as I'm maid of honor I will be arranging it. Another bridesmaid has asked me to pay for half the wedding cake as a "surprise" for friend. They also want to book her in for a spa weekend and beauty treatments the week of the wedding. Which again, I am supposed to arrange and pay in to."
The maid-of-honor is getting frustrated by all the cost and is asking followers, "Can I resign as maid of honor?"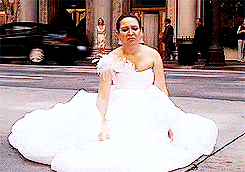 "I do not have this kind of money. I won't be going abroad. I don't have the time nor quite frankly the inclination to arrange multiple events for bride to be."
Some followers on the forum were sympathetic and told the maid-of-honor she has every right to feel this way.
"Get out while you can"
"Could you tactfully say you are feeling anxious about the responsibility. You could suggest either she appoints a joint maid of honor to help or you could just step down and be bridesmaid?"
"Resign. It's going to ruin your friendship anyway if she pressures you into more madness in the months before her wedding date."
"Get out, get out, get out! Just be honest with her and say you don't have the resources for the kind of experience she wants, and you would hate to disappoint her, so you are graciously stepping down."
Tell us fairies, what would you do in this situation?