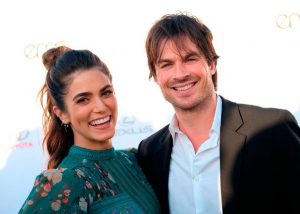 Nikki Reed and husband Ian Somerhalder have released a joint statement to clear the air following Somerhalder's admission he destroyed her birth control pills in order to get her pregnant.
The statement, which was posted to Reed's Twitter page, read "To anyone who has been affected by reproductive coercion, we are deeply sorry. This is an extremely serious issue, and women's rights is something that is incredibly important to both of us. It is something we've been very vocal about, and something that is very close to our hearts."
 The announcement heavily stressed that the couple mutually agreed for Niki to become pregnant, despite the Twilight star's husband originally claiming that his wife wasn't aware of his actions.
Speaking on Dr.Berlin's Informed Pregnancy podcast (now there's some irony, for you), Somerhalder explained "unbeknownst to poor Nikki" went into her purse and grabbed a nearly-full pack of birth control pills and flushed them down the toilet during the couple's trip to Barcelona. In the interview, Ian added, "This was the beginning of the pack, so I had to pop all of those suckers out. There were like 25 of them. It's a lot of work, especially after a little sangria."

Nikki, who was present during the interview, revealed that she "didn't know" if she wanted kids, before calling Ian's actions "presumptuous". Somerhalder then admitted to having a "six-minute video" video of his wife "freaking out" as he flushed her birth control pills down the toilet.
But that's not all – he then proceeded to explain and realise he'd coerced his wife into a forced pregnancy, saying, "Actually, now thinking about it, I guess I kind of decided (to start a family)."

While we're happy the couple have welcomed a healthy child (daughter Bodhi, born in July), this incident is pretty unnerving, despite the pair being in a contented relationship.
What do you think, Fairies? Awful or overblown?
Images courtesy of Getty Images, Glass Jar Photography and Nikki Reed/Twitter
Article written by Alison Donnellan