So your wedding is creeping around the corner and you're super stressed. We might get it, but your skin doesn't. Your breakouts are coming in, you're not feeling yourself, and that bridal glow looks more like a red blotchy mess.
Everyone knows that for makeup to look stellar, you need to have a great canvas to start with, so here's everything you can do to get your skin prepped before your wedding.
And grooms, don't forget that this all goes for you too!
You'll Find Rodan + Fields at The Bridal Bazaar on June 12th. Buy your $29 tickets here – for the month of May only.
1. Start A Skin Care Routine
Getting into the habit of going through a daily skin care routine will do wonders for your face, and Rodan + Fields is the perfect brand to help you do that. This skin care brand is brilliant in helping your skin reach its full, stunning potential. They've got a range of products for different skin types, and because they know it'll take a minimum of 45-60 days for your skin to renew itself and give you results, they offer a 60-day money-back guarantee.
They've got three main packages you can look into. The Redefine, which includes a range of products, including an exfoliating roller, a night renewing serum, and clay mask, is great for dealing with fine lines, minimising pores, and helping firm up your skin.
There's the Reverse package, which fixes dark marks, dullness and discolouration, and can be used with the Redefine roller to increase the product's usefulness by 50%, by helping all the good stuff really sink into the skin. As well as their exfoliating wash, toner, and sunscreen, there's also vitamin C and retinol, which are some pretty powerful stuff.
And finally, you can't go past their Soothe range. This is the most gentle of all the routines and is great for those of you with sensitive skin.
Rodan + Fields' most popular product, the active hydration serum, is an absolute must. This lightweight, super serum can be used with any of their ranges and works to plump the skin, instantly hydrate up to 200%, and last for 8 hours. Perfect for getting that youthful skin, it also works great under makeup and even helps it last longer.
The consultants at Rodan + Fields recommend brides should start using these products at least two months before their wedding. This way you'll be sure to reap all the benefits and get the results you want.
2. Book Facial Treatments
Facial treatments are great for getting your skin to look its best, and Géniale know how to treat you just right. They'll take your skin to a whole new level without any effort on your part. There are so many options available, and the fact that they have over two decades of experience means that you know you'll be in good hands. From a 4D facial, which will help deal with facial ageing, to Scarless Lesion Removal, Géniale will leave you looking invigorated and radiant. These guys really do have you covered.
You'll Find Geniale at The Bridal Bazaar on June 12th. Buy your $29 tickets here – for the month of May only.
3. Chill It Out
We know it's easier said than done but just relax. The stress you've built up for the past few months has started to take it out on your skin, and you need a chance to calm down. This is where Langhana Spa comes in. Relax and unwind with their facials, body treatments and massages. We're talking about an Aqua Salt Glow to help revitalise and relax, a Hot Stone Massage and a Skin Renewal Journey.
Langhana Spa is all about creating that sensory journey and relaxing rituals, so you know you'll walk out feeling like you're floating on Cloud 9.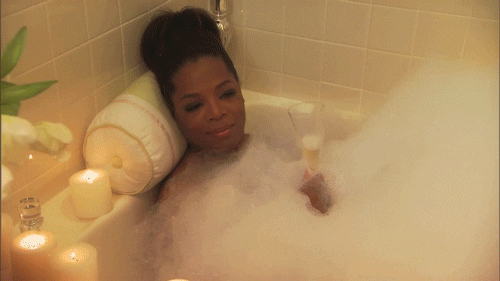 via GIPHY
4. Bring Your Best Skin Out
According to Vogue, correcting any skin imperfections needs to be taken care of well ahead of your wedding day. This includes booking in microdermabrasion sessions or skin peels, and Laser Clinics Australia is a great place to get that done.
Their microdermabrasion is a five-step process, and it includes cleansing, exfoliating, and hydrating. What's even better is that they'll tailor the session to suit your specific skin needs. Does it get any better than that?
An added bonus is that they've got locations everywhere, so that's one less stress you need to worry about.
5. Know What Works For You
Get yourself to a dermatologist ASAP and figure out what your skin needs. Maybe you've got a little discolouration going on that you really want to get rid of, or there are a few patches of dry skin that keep popping up. A proper dermatologist will know the best way to sort you out, so you won't have to rely on the testimonials of random people on the internet.
Trust us; it's a trip to the doctor's that will be worth it in the end.
6. Moisturise!
You've probably been living under a rock if you think moisturising isn't important. Honey, it's a massive must. The ladies over at Rodan + Fields told us that hydrated skin looks younger as it shows less fine lines and wrinkles, so moisturise!
The trick here is to know what moisturiser will work best for you. Someone with oily skin isn't going to need the same stuff as someone with dry skin. This is where your dermatologist and some solid research will come in handy.
7. Treat Yourself At Home
Sheet masks have been a hit or miss with different people. Some don't see any benefits from it, while others love a bit of at-home masking. Whatever your thoughts, sheet masks are still a great way to take a moment to relax. Plus, with all the hype of Korean skin care products, you'll find a whole range of masks to try out, and you'll find them just about everywhere.
You don't have much to lose here, so why not give it a go once a week for a little bit of self-love?
Written by Hanan Merheb
Cover image by @tashasuka