Gossip Girl might be signing off, but the show's impact on the style sphere is here to stay. The series' iconic female characters, with their impeccable style and taste, have left a lasting impression on the world of bridalwear. As we reminisce the show's lasting impact, we can't help but be inspired by the memorable bridal looks that graced our screens from the best Gossip Girl weddings.
From Blair Waldorf's fairytale-inspired gown to Serena van der Woodsen's modern elegance, these bridal styles are sure to inspire any bride looking for a touch of Gossip Girl glamour on their special day. Join us as we take a look back at some of the most iconic bridal ensembles from Gossip Girl weddings.
The Wedding Dresses to Remember
Blair and Chuck: Season 6
One of the most long-awaited Gossip Girl weddings that had us on the edge of our seats is that of Blair Waldorf and Chuck Bass. Finally, during the final season, the iconic couple played by Leighton Meester and Ed Westwick, said "I Do" in a picturesque Central Park ceremony. The bride was a vision in a stunning blue embroidered and beaded long-sleeved gown by the renowned designer Elie Saab, a fittingly elegant and timeless choice for the end of an era.
Serena and Dan: Season 6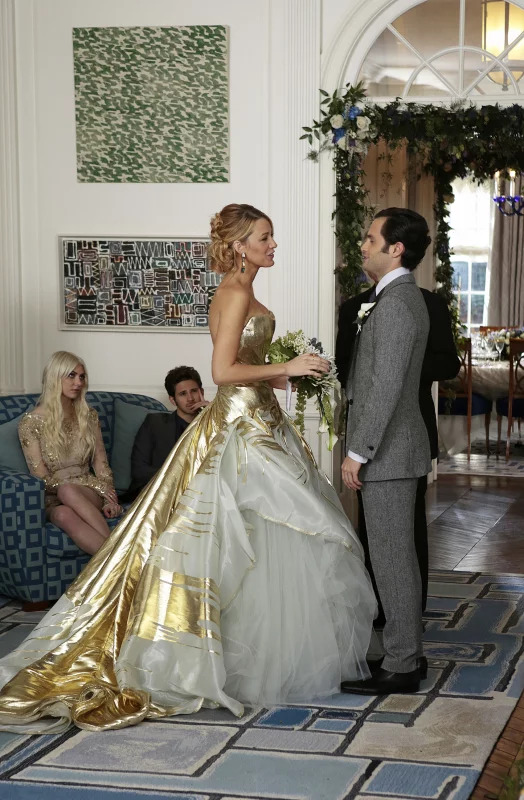 As the Gossip Girl series came to an end, the show's beloved pair, Serena and Dan, exchanged vows in a beautiful and understated ceremony. Serena van der Woodsen made a grand entrance down a minimalistic set of stairs, a fitting choice for the subdued yet stunning nuptials. The bride was a vision in a metallic gold bustier gown with a grandiose gold and white train by Georges Chakra Couture.
Lily and Bart: Season 1
Gossip Girl's inaugural nuptials belonged to none other than Lily and Bart Bass, as they exchanged their vows in a classic ceremony. The first lady of the Upper East Side, Kelly Rutherford, walked down the aisle in a stunning strapless bustier gown by the legendary designer, Vera Wang, showcasing a timeless and elegant bridal look that set the bar high for the show's future weddings.
Blair and Louis: Season 5
In a ceremony filled with unexpected twists and turns, Blair Waldorf reluctantly tied the knot with Prince Louis of Monaco, played by Hugo Becker. The nuptials were interrupted in one of the most dramatic scenes of the entire season. Despite the chaos, Blair shone in a tailored bustier gown with intricate embroidery by none other than Vera Wang, adding a touch of timelessness to the tumultuous event.
Guest Looks Worthy of a Mention
Serena at Lily and Bart's Wedding
When Lily tied the knot with Bart, Serena donned a breathtaking look. The dress in question, a striking yellow ruffled number from Ralph Lauren's spring 2008 collection, seemed tailor-made for the occasion. The long and lean silhouette, the alluring keyhole at the neck, and the sleek black gloves all exuded an air of Upper East Side elegance, making her the epitome of chic at her mother's wedding.
Dorota at Rufus and Lily's Wedding
Dorota's pastel ensemble at Rufus and Lily's wedding is a standout moment in Gossip Girl fashion. The flowy yet striking dress in soft, dreamy pastel hues was a perfect choice for the occasion. The pastel blue statement hat added flair and completed the look.
Serena at Blair and Louis' Wedding
Serena van der Woodsen was a vision of beauty as maid of honour in her pastel pink one-shouldered gown from Vera Wang. The ruffled design and delicate corset bodice paired with a blossom flange skirt from the designer's spring 2011 collection, made for a stunning and unforgettable bridal party look.
Jessica Szohr at the Freshman Toast
We can't be the only ones who were captivated by the stunning gown worn by Jessica Szhor in Gossip Girl. Although it wasn't worn for a wedding in the show, its silhouette and understated sophistication make it a must-include on any list of iconic Gossip Girl fashion moments. The simplicity of the design exudes a timeless elegance that we can't get enough of.
This series brought on drama and romance, but most of all impeccable fashion. From Blair Waldorf's graceful ensemble to Serena van der Woodsen's stunning metallic gown, the show's iconic characters have left a lasting impression on the world of fashion and bridalwear that continues to be referenced and admired.