If you saw the Oscars 2017, then you were likely in awe of the absolutely beautiful women on the Red Carpet!
Known for the star studded gathering of Hollywood royalty, The Academy Awards has really become more like a fashion show. If you're looking to 'dress to impress' this year, you'll definitely want to get a rocking style, not to mention body like Giuliana Rancic.
Our quick tips to getting that dream figure and outfit will ensure you look fabulous! (and probably lose a significant amount of weight too).
1. Get the Dress for LESS
This is a 'periwinkle blue' gown, according to Georges Chakra Couture!
This phenomenal draped dress Giuliana Rancic wore to the Oscars conveys an asymmetrical split neckline, subtle cut-outs in the bodice, jeweled accents at the shoulder and waist, and a sweeping cape. What else could a girl need? Oh, and a slit for that 'entrance-making' drama.
Straight from Georges Chakra's 2017 Spring/Summer collection, Rancic completed the look with some Christian Louboutin heels, a precious sparkly Judith Leiber clutch and delicate jewels, including a bracelet and earrings, by Forevermark.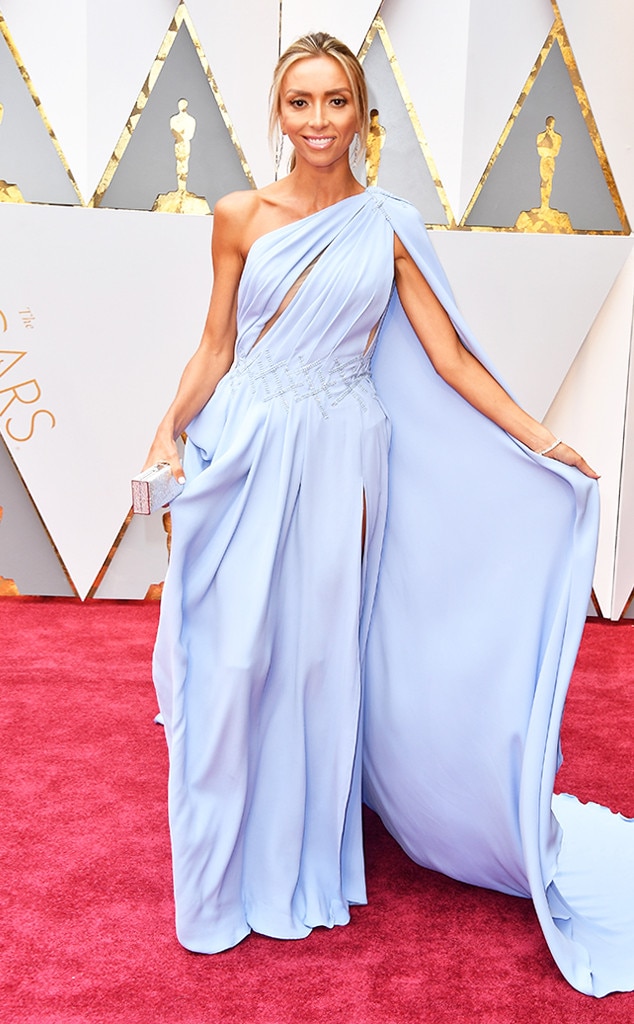 Image via WWD
So, now that we have you!
The day comes when a girl is strapped with finding the 'designer look'. Little does she know how many stores can cater to the Giuliana style with just a third of the price!
Exhibit A! This Monique Lhuillier gown is a contemporary and lush look for a fairy who is yearning to sprout the wings of luxury. Valued at $298, this powder blue wonder, offering an alluring one-shoulder silhouette, is pleated with an elegant train.
Image via Shape
Because each girl loves a new accessory. This Orelia clutch from Forever New definitely makes a sparkling statement. With a built gold-toned frame and a geometric closure tab, we say Judith Leiber who?
Image via ForeverNew
2. Target your problem areas with Hypoxi!
Are you looking to take your fitness regime to the next level? We all know how hard it can be to target stubborn fat areas on your body, and how quickly you can get discouraged when you plateau using traditional diet and exercise regimes. That's where HYPOXI comes in! Hypoxi a low-impact exercise method that is up to 3 x more effective at burning stubborn fat than traditional exercise. Through advanced vacuum and compression technology and healthy nutrition, Hypoxi activates your body's natural system to burn specific areas of fat and cellulite.
You've got the dress, now flaunt it with Hypoxi's simple and smarter way to get the body shape you're after! Discover the best version of you with with a FREE TRIAL and try it for yourself.
Image via Hypoxi
3. Some Flair in your Hair!
Rancic's stylist Rebecca M. Gross once again created the look, while hair whizzes Melissa and Yvette Brown shaped the updo, and Daniel Deleno did the makeup.
Ponytails may just be the easiest hairstyle around, with the style's history providing us with plenty of inspiration for switching up the look. When it comes to the beautiful Giuliana Rancic, hairstylists Melissa and Yvette decided on the tail wrap. And by this, you can simply knot two strands of your hair for a variation on the ponytail wrap.
No matter your hair type or face shape, it's extremely easy to master the look. Just follow our advice!
Image via Giuliana Rancic/Instagram
Step 1
Apply L'Oréal Paris Advanced Hairstyle SLEEK IT Frizz Vanisher Cream to damp, towel-dried hair then rough-dry completely. The cream can help with smoothing the hair which gives a soft and shiny finish.
Step 2
Brush your hair through then sweep it all back off your face. Mist it all over with some L'Oréal Paris Advanced Hairstyle SLEEK IT Strand-Smoother Serum Spray to fight off flyaways and tame that frizz!
Step 3
Tease a few wispy pieces of hair loose at the front then take your hair and tie everything else in a tight knot at the nape of your neck. Pin the knot underneath to make sure it stays in place.
Step 4
Mist your new style with some hairspray for added shine and up to 24 hours of great hold. That's it!
Image via Loreal
4. Doll up with Makeup!
Smokey eyes are a timeless look and if you're ready to master the art of the Giuliana Rancic look, we've got you covered with this easy guide on how to make your eyes pop!
First off, apply your lightest shade to the inside corners of your eye and brow bone, then a medium shade over your entire eyelid.
Using the darkest shade, add to the outer corners of your eyes and crease. Make sure to sweep some of the darkest shade onto your lower eyelid. And lastly, apply eyeliner to your upper lid. MAC Cosmetics does wonders!
Of course, any colour can be used to create a smoky eye. All you need is three shades of a similar hue. The classic smoky eye is created with black or gray, but bronze and brown are also commonly used.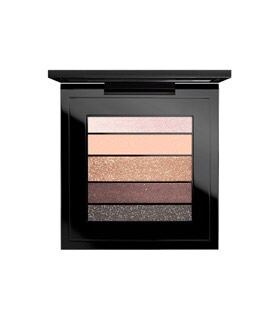 Image via MAC Cosmetics
No matter what type of skin you have, any girl can accomplish a beautiful bronze. Get the 'al natural' Giuliana look with a bronzer that is easy to work with and a lot more universal.
Have you been out in the sun? With this Napoleon Perdis bronzer, you'll look like a fairy who's returned back from a beach vacation. When it comes to applying, use lightly over your cheeks and use a wet sponge for a more intense colour. If your interested in a dramatic contour, use under the cheek bones.
Just a sweep of this fabulous baked powder will create a sexy, natural and sun-kissed look!
Image via Napoleon Perdis