Weddings are beautiful affairs and every Groom & groomsman must look the part beside the stunning Bride and Bridesmaid!
When it comes to fashion, a Bride knows the A to Z. But when a Groom dips his toes for the first time, sometimes all doesn't quite go to plan!
Our guide to the best Groomsmen outfits will help your man style his men to a complete 10!
From something traditional to the world of colour, it's all here at Wedded Wonderland!
1. Smart Casual
Perfect for a Summer or outdoor Wedding, these outfits have no limits. From denim jeans, bow ties even casual jackets will work for a splendid affair.
Image: ChicVintageBrides
2. Mismatched Suits
For a Wedding that breaks the rules, mismatched suits are actually becoming a trend!
No one ever said your Groomsmen had to match, right? Even a spotted waistcoat will grab everyone's attention.
Image: ChicVintageBrides
3. Olde English Tale
Keep it old school with tailed jackets for your Groomsmen. A floral boutonniere will give your Wedding that traditional touch.
Image: BridalMusings
4. Keep it Traditional
Because Black and White never goes out of style.
Your Groomsmen will look dapper in anything solid and clean. A pair of sunglasses is a snazzy look.
Got to keep those men looking classy!
Image: InsideWeddings
5. A Realm of Colour
Because the rainbow has colour too!
Stores now cater to a multitude of colour schemes. Allow your men to pick what they think works best and let your day glimmer.
Image: ChicVintageBrides
6. Strictly White
Match the Bride-to-be with simple and elegant white.
Break it up with the addition of a vibrant rose boutonniere or coloured tie.
Image: Pinterest
7. The World of Art Deco
Go out with a bang.. Gatsby style!
With top hats and waistcoats, your Wedding day will look super fancy, not to mention classy all the way.
Image: ChicVintageBrides
8. The Luxury Life
Everyone loves a little mix.
This superb tuxedo look has the combination of elegance and luxury with black and white Groomsmen attire. A pocket square and bow tie will give us all butterflies!
Image: Community
9. Vintage Tweed
We absolutely adore tweed suits!
For a vintage Wedding affair, don't forget your three piece tweed attire, complete with pocket watch (we hope!)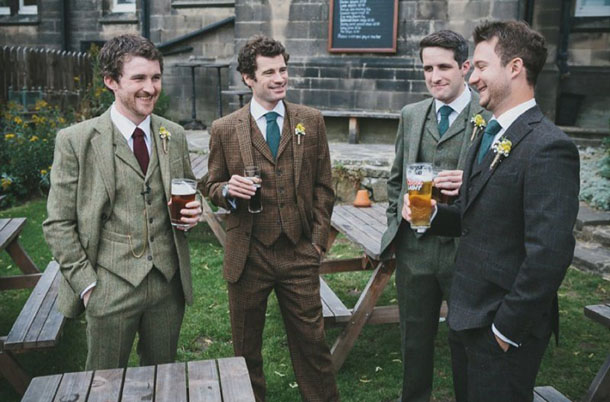 Image: SouthBoundBride