Prepare yourselves, Fairies – Valentine's wilder sister is approaching.
Galentine's Day, everyone's* favourite non-official February holiday, takes place the day before Valentine's Day (lucky number 13) – and it's all about celebrating your favourite ladies! (Thank you Leslie Knope for this momentous day).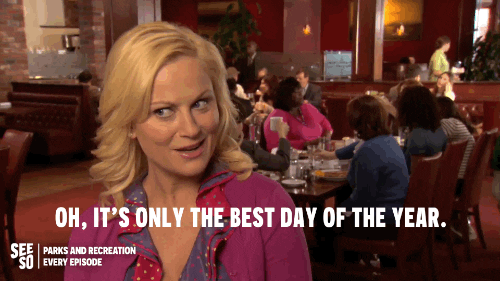 So gather your best ladies and celebrate with these 6 fun (and slightly tipsy) Galentine's Day ideas.
Bar Night (With No Phones)
Ladies, hear us out. We know that phones have essentially become attached to everyone's bodies, but using Galentine's Night as a time to have a momentary digital detox is exactly what you didn't know you needed. Dress up, head out to your favourite bar or somewhere new (or a few) and celebrate the night with your best girlfriends. Maybe you're celebrating single life or just having a great bunch of friends – either way, switching off your phones will save you from any regretful texts or drunken calls that tend to be made on a night out.
Via @OneFleur
Feast On Some Amazing Food
This is the perfect opportunity to show off your serious culinary skills (or your serious UberEats-ordering skills). Gather your friends at your house, deck out your place with some inspiration from your favourite Pinterest boards, and feast like the queens you are. If you're not in the Martha Stewart-zone, book your favourite restaurant and laugh with your friends over copious amounts of pasta and wine
Via @piaarrobio
Bake Off
Time to get creative and maybe a little competitive. Host a Bake Off amongst your friends to find out who is the cream of the crop. Aim to be creative and make it a rule that the most creative (but also tastiest) will win. Throw some wine into the mix to make it a little more interesting and don't forget to share your creations on your socials. Also be sure to squeeze some waffles into the mix in honour of Galentine's Day founder Leslie Knope.
Road Trip (To Wine Country)
Speaking of wine, turn Galentine's Day into Wine-and-Galentine's Day by taking a road trip to your nearest winery. If Galentine's falls on a weekday (like it does this year), move the celebration to the weekend. It's about the spirit of Galentine's Day after all.
Via @sommerswim
Have An Embarrassingly Bad Rom-Com Marathon
Pretend all you like, but we see right through you – you enjoy a cheesy rom-com just like the rest of us. Compile some classics – we're talking Pretty Woman, Love Actually, Bridget Jones' Diary (only the first one), and anything else that you might fancy and parked yourselves in front of that screen. Throw in plenty of delectable sweets (including whatever you managed to create in your bake off), some drinks, prepare to cry, laugh, and shout out "fake!" for the next three hours.
Galentine's Day Drinking Game
This one can also go hand-in-hand with the rom-com marathon. The Galentine's Day drinking game should be approached with caution (purely because you'll have too much fun with it) so its best to stay indoors when you do it. You can take a drink anytime says the words "single" or "cat lady", if your baked goods turned out great (or terrible), or during any cliché in your rom-com marathon (warning: there will be a lot).
Via BuzzFeed
Most importantly, Galentine's Day is all about ladies celebrating ladies, so even if you aren't officially celebrating, it's a great time to remember how lucky you are to have some wonderful women in your life.
*This writer
Cover image by @nectarandstone