Every Bride needs a little quirkiness and style.
Vintage Weddings have become one of the most up and coming yet timeless themes around the world. Not only does it show romance but creates a little nostalgia too.
For those Brides-to-be who want a vintage-inspired wedding, we have compiled 13 phenomenal vintage wedding ideas to help you make the best out of it!
1. Invitations
When it comes to your Wedding invitation, let your guests know about your vintage theme. With a vintage-styled design and old lettering, this will really set the mood.
Image via Pinterest
2. Wedding Dress
One word: lace.
When deciding on a Wedding gown, be inspired by the 1920's. Have you considered an off-white or champagne coloured dress? Also, veils used to be longer and trailed down to the floor.
Image via Homes and Antiques
3. Floral Bouquet
There are a range of fabulous colour schemes that could cater for a vintage Wedding. With pastel pinks and greens combined with ivory or white, make sure to add lace, pearls and antique brooches!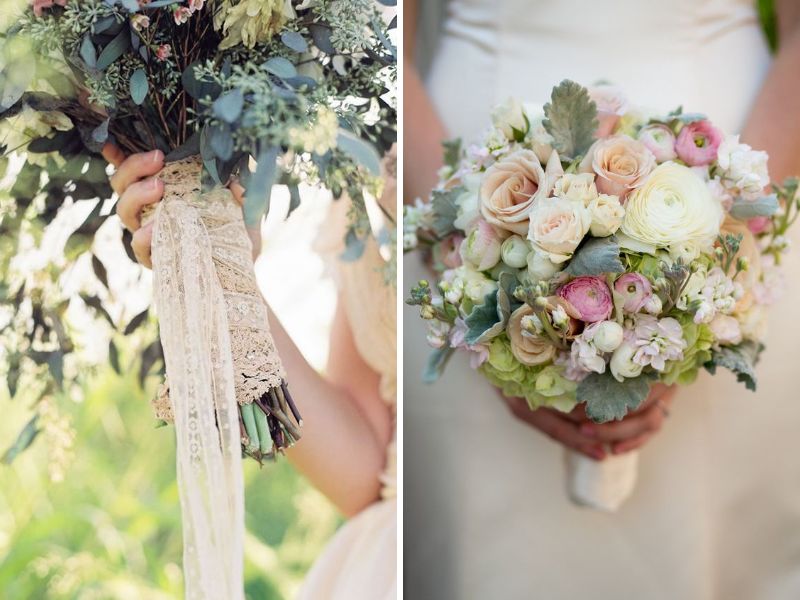 Image via Pinterest
4. Bridal Accessories
Get the original vintage look with a headpiece cloche or floral crown-like tiara. Investing in vintage style shoes will definitely match your gown. When it comes to jewellery, look for exquisite pieces.
Image via TWR Accessories
5. Bridesmaids Dresses
Search for a soft colour palette including beige to get the vintage feel. Keep it simple; we just adore antique lace detailing.
Image via Tulle and Chantilly
6. Wedding Favours
Remember to always add a little nostalgia to your Wedding. If you intend on having kids at your reception, we suggest retro toys or rock candy. For all the ladies, what about an elegant but old accessory? Old fashioned cigars for men will really get them smoking (in the nicest possible way).
Image via AliExpress
7. Hairstyles
Wavy hair works best for Brides and Bridesmaids who want to keep their hair loose. Accessories such as a floral headpiece for the Bride is fantastic. Let your Groom know that gelled-hair is great!
Image via Praise Wedding
8. Bridal Make Up
A vintage Wedding will be complete with make up!
For a dramatic flair, add a deep red lipstick. Even an eyeliner and thin eyebrows are a few fabulous ideas to try.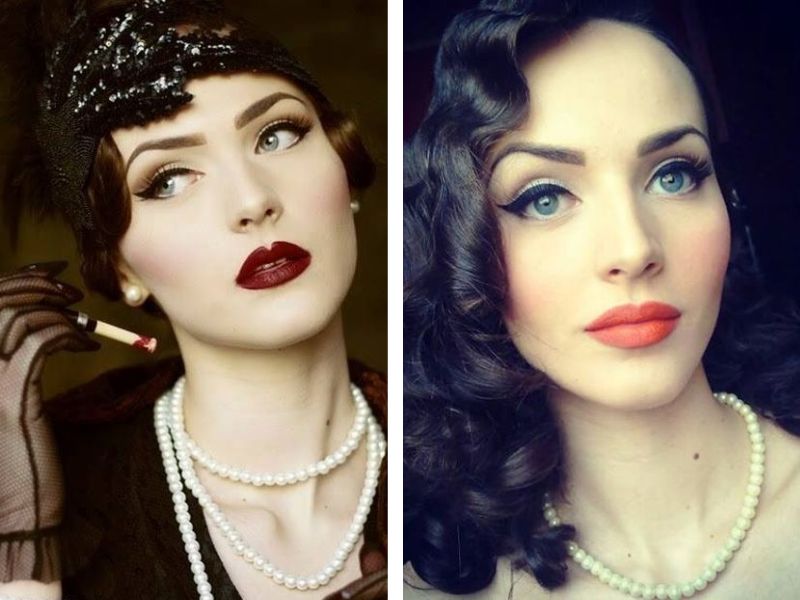 Image via Pinterest
9. Wedding Colours
Depending on the season, search for the right colour that will still reflect a vintage vibe. Also, make sure the tones are faded.
Image via Pinterest
10. Transport
Step back into the 1920's with a Gatsby inspired car. There are tons of old fashioned vehicles available for hire. We absolutely love a classic Ford Thunderbird.
Image via Wedding Cars
11. Table Decor
Vintage centrepieces are extremely easy to find. Decorate your venue with lanterns surrounded by hydrangeas and roses. Even fruit baskets will work to hold your floral arrangements. What about antique table runners and mason jars?
With each table, add a lace table runner and napkins, even vintage dinnerware.
Image via Crafthubs
12. Food
When it comes to the cake, dress it up with pearls, flowers, and ruffles. Keep it chic with your food and display everything artistically on the table. Use old vintage furniture to serve drinks and appetisers.
Image via Aisle Society
13. Music
Place your vintage stereo on a stack of vintage suitcases and dance all night long. Give your guests a choice of classic songs and some instrumental sounds to really get into that 'olde world' atmosphere.
Hiring a jazz band would also be perfect!
Image via Pinterest